22.12.2017
Armed with education
Germany works on stabilising crisis-hit countries. But what does stabilisation mean in practice? One example is Afghanistan, where teaching police to read and write is making the country safer.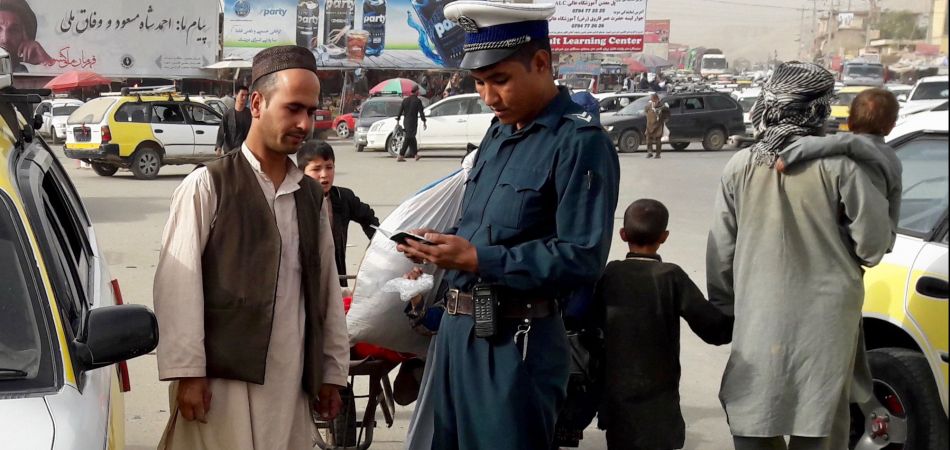 In the past, when Faizullah, a 38-year-old police officer from Kabul, had to locate a suspicious vehicle, he had almost no chance of success. He could neither read nor write and was only able to identify a car's colour and make. Faizullah recalls a time when he was supposed to arrest the driver of a yellow car for using a false registration plate. When the car pulled up, Faizullah asked to see the driver's licence. "Instead the driver showed me an electricity bill, as I found out later." He pretended to check the papers, then nodded and let the wanted man go. "That was the best I could do at the time."
Those days are gone. Faizullah attended one of the literacy courses provided by Germany to police in Afghanistan with the aim of stabilising the security situation in the country. To date, the Federal Foreign Office's Directorate-General for Crisis Prevention, Stabilisation, Post-Conflict Peacebuilding and Humanitarian Assistance has provided some 27 million euros in funding to the programme. It is one of 63 projects that are part of the Stability Pact for Afghanistan with which Germany supports the Afghan Government.  This kind of stabilisation work focuses on short and medium-term support to quickly deliver tangible progress with the aim of strengthening the political partner, namely the Afghan Government and its state institutions.
Afghanistan today is a completely different country than it was after liberation from the Taliban
"Afghanistan's development is irreversible," says Thomas Zahneisen, former acting German Ambassador to Afghanistan and long-serving Head of the Stabilisation Division in Berlin. "Afghanistan today is a completely different country than it was after liberation from the Taliban." Problems with security and the refugee situation are currently the main cause of destabilisation. Half a million Afghans are internally displaced persons (IDPs). Additionally, the country struggles with the return of 600,000 Afghans in 2016 alone, who had to leave Pakistan and come back to their home country. To help them, the Federal Foreign Office has provided some 11 million euros within the last three years. In fact, about half of the aid provided to Afghanistan in 2016 by the Directorate-General for Crisis Prevention, Stabilisation, Post-Conflict Peacebuilding and Humanitarian Assistance – some 91 million euros – has been allocated to police and the security sector to address the lack of security – one of the main reasons why people flee.
Zahneisen underlines that the Afghans are proud of their police officers. However, they would like to see significant improvements, also because police officers reflect society as a whole, where the vast majority of people – some 70 percent – cannot read or write or are only semi-literate. "In my own case, I didn't learn how to read or write as a child because of the war," Faizullah says. "And later on, I didn't have the time because I had to sell water in the city to feed my family." Ten people depend on his earnings.
We can create a peaceful Afghanistan if police officers can read and write.
Police officer Abdul Latif from Baghlan
Faizullah now has a diploma equivalent to three years of primary school education and can do things he could not even imagine in the past, such as inspecting vehicle documents and registration plates, setting up road blocks for checkpoints at particular places and finding addresses without help. Unlike many of his colleagues, he no longer has to ask a school child to read out the name on an arrest warrant for him. He can now read the duty roster on his own, issue penalty notices and write records of police interviews.
"If police officers are not well educated, people feel less safe," says Georg Fritzenwenger, manager of the police literacy training project at the German agency GIZ in Kabul, which runs the programme on behalf of the Federal Foreign Office. Additionally, there is the fight against extremists such as the Taliban: Even though the Afghan army is in the lead, the police also stand for the presence of the state outside the urban centres. "In regions where the security situation is tense, police officers rapidly become involved in other security tasks," Fritzenwenger says. If they were attacked, they often would have no other choice but to defend themselves, as he explains.
This makes it all the more important for the security situation that lower-ranking police officers stay with the service and do not leave for less dangerous or better-paid jobs at the earliest opportunity. "The literacy courses make jobs at the police more attractive, as they help people and improve their promotion prospects," Fritzenwenger says. Every day, the course participants spend two hours of their shift learning how to read and write. During the rest of their shift, they do their normal jobs. As soon as five police officers want to attend a course, the team of GIZ gets started. They send teaching material, tables, benches and a blackboard and train a suitable teacher.
In addition to standard adult literacy material, the project has developed special elements for police officers. "This material addresses topics that are not covered in depth during regular police training," Fritzenwenger says. "Topics range from defining a police officer's actual role to the importance of human rights, equal opportunities, the environment and health." So far, 80,000 police officers have attended the literacy courses of GIZ and a further 32,000 officers are currently taking lessons.
Only police officers who can read and write are able to apply the law
The benefits can be felt immediately. "Because I can read now, I noticed a false registration plate during a recent vehicle inspection," says Abdul Latif, a 28-year-old police officer from the small town of Baghlan in northern Afghanistan. "I always dreamed of joining the police." But only now he can do his job properly: "Only police officers who can read and write are able to apply the law," he says. "And that's the only way we pave the path to peace in Afghanistan."