Millions in aid for Moldova
Particularly large numbers of people from Ukraine are fleeing the war to Moldova.
05.04.2022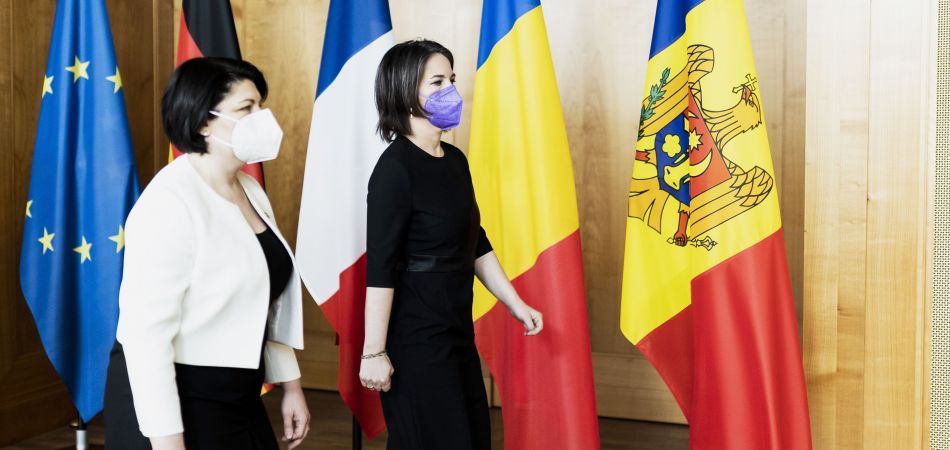 Berlin (dpa) – Germany's Foreign Minister Annalena Baerbock (pictured in the photo with Moldova's Prime Minister Natalia Gavrilita), together with her French and Romanian counterparts Jean-Yves Le Drian and Bogdan Aurescu, hosted a support conference for Moldova in Berlin on April 5. At the meeting, issues such as provisions for the refugees from Ukraine and increased energy prices played a role. The conference also marked the start of the work of the support platform for Moldova. It will continue to focus long-term on the priority areas of the conference and work on them on an ongoing basis.
The German Development Ministry also decided at short notice to increase the support package for Moldova from 35 to 40 million euros to help it deal with the refugee situation and stabilise the country. "Almost 100,000 refugees from Ukraine are currently staying in a country of 2.6 million inhabitants that is one of the poorest countries in Europe," announced Development Minister Svenja Schulze.
Schulze said that the country was particularly vulnerable due to its almost 100 percent dependence on Russian gas, adding that the effects of the Russian war in Ukraine were felt strongly in Moldova. Gas prices for example have risen almost eightfold in the past six months, and inflation has risen to 18 percent. The support includes funds for the development of social infrastructure, schools, nursery schools and accommodation in municipalities that take in refugees. Another focus is to support the integration of Ukrainian trainees into the country's vocational training system.