Commemoration of victims in Italy
German President Steinmeier is to take part in a memorial service in Italy marking a German army atrocity during World War Two.
23.08.2019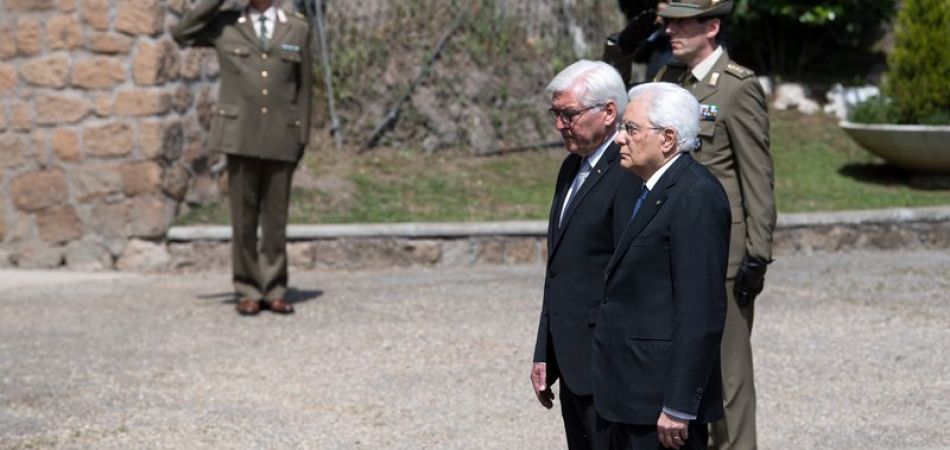 Berlin/Fivizzano (dpa) - Central Italy experienced the bloodiest phase of the Nazi German occupation in the summer and fall of 1944, in what became a "war against the civilian population." That was the conclusion of a report published in 2012 by a German-Italian commission of historians that Italian Foreign Minister Franco Frattini and his German counterpart, Frank-Walter Steinmeier, established in Triest in 2008.
Now, 75 years after the gruesome events, Steinmeier will be visiting the city of Fivizzano as Germany's president. On Sunday, together with Italian President Sergio Mattarella, he will participate in the annual memorial ceremony for the victims of a massacre carried out by the German Wehrmacht. Steinmeier will lay a wreath an unveil a memorial plaque.
"It is the very first time that a leading German politician will be in Fivizzano," notes Klaus Bresser, mayor of the German municipality of Steinhagen which entered a city partnership with the Italian city in 1988. Bresser, a Social Democrat like Steinmeier, feels it important to get the point across in Germany that brutal Wehrmacht and SS atrocities took place not only in the Ardeatine Caves in Rome, in the Tuscan mountain village Sant'Anna di Stattema, and in Marzabotto in the Emilia-Romagna region.
Steinmeier intentionally chose Fivizzano, a place virtually unknown to Germans, the president's office said. It was during a visit to Berlin last January by Mattarella that they announced that this year's joint commemoration of the massacre of Italian civilians would take place in Fivizzano.
Memories of German war atrocities were still "very alive" in Italy, noted Steinhagen mayor Bresser, who has visited Fivizzano often and will be accompanying Steinmeier there on Sunday.
For Steinmeier it is not the first such journey to mark a grim chapter of German history. His fourth foreign trip as president was to Rome in May 2017 where - likewise alongside Mattarella - he visited the Ardeatine Caves memorial to the more than 300 civilians murdered by Wehrmacht soldiers.
Previously, in June 2014 as foreign minister, Steinmeier joined his Italian counterpart Federica Mogherini in a visit to the Tuscan mountain village of Civitella, where in 1944 German soldiers gunned 244 civilians to death. 
"We Germans know what responsibility we bear to this day for the atrocities of our compatriots," Steinmeier said at the time. He asked Italy for forgiveness "for the unforgivable." In a special gesture then, Steinmeier held his speech in Italian. He will be doing the same on Sunday in Fivizzano.