Merkel: Economy should serve people
At the 100th anniversary of the International Labor Organization, Merkel calls for decent working conditions.
12.06.2019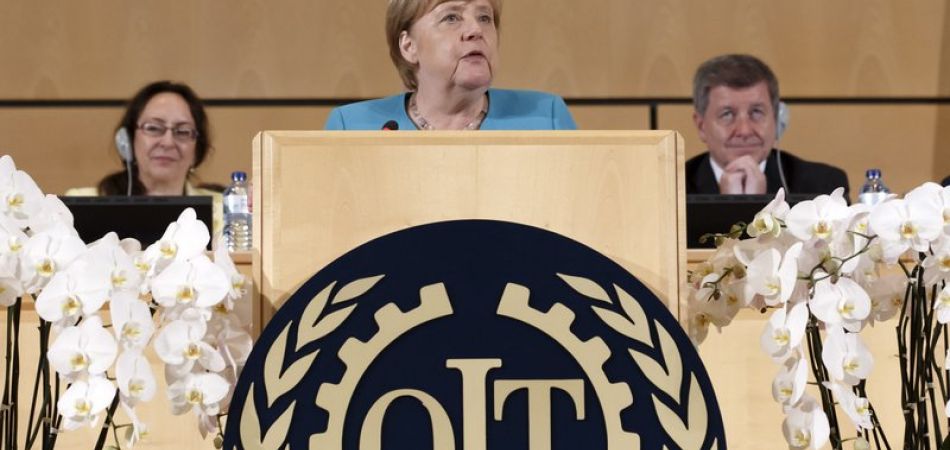 Geneva (dpa) - German Chancellor Angela Merkel issued an appeal in Geneva for more human dignity in working conditions. People should not be merely considered as factors of production but instead must be able to realize themselves and develop their talents, she said in a speech Tuesday at festivities marking the 100th anniversary of the International Labour Organisation (ILO). "The economy should serve people and not the other way around," Merkel said.
French President Emmanuel Macron spoke after Merkel. A bilateral meeting between the two to discuss the dispute over the filling of top European Union posts was not planned. Merkel is backing German politician Manfred Weber of the Christian Social Union party to be the next EU Commission President. Macron is opposed.
The ILO was founded in 1919 with the aim of securing world peace by improving peoples' working and living conditions. It is one of the specialized agencies within the United Nations, with countries represented by government, trade union and employer groups. The ILO drafts labour and social standards that should apply worldwide in order to prevent individual participants in international trade from gaining advantage through a dismantling workers' rights and a worsening of working conditions.
Merkel praised the work of the ILO in the face of the challenges posed by the digital transformation. The issue was how could human and artificial intelligence complement each other. Many people were worried about their jobs. 
"We must, our closely networked world, become clearly better in actually achieving social progress from economic growth," Merkel said. "Since this international system of multilateral cooperation is in danger at the moment, with many who say we can cope better on our own, I must emphatically say: Compromise is part of international cooperation."