Merkel thanks Jordan's King
The German Chancellor has thanked Jordan's King for his commitment to a peaceful future for the Palestinians in a two-state solution with Israel.
28.10.2021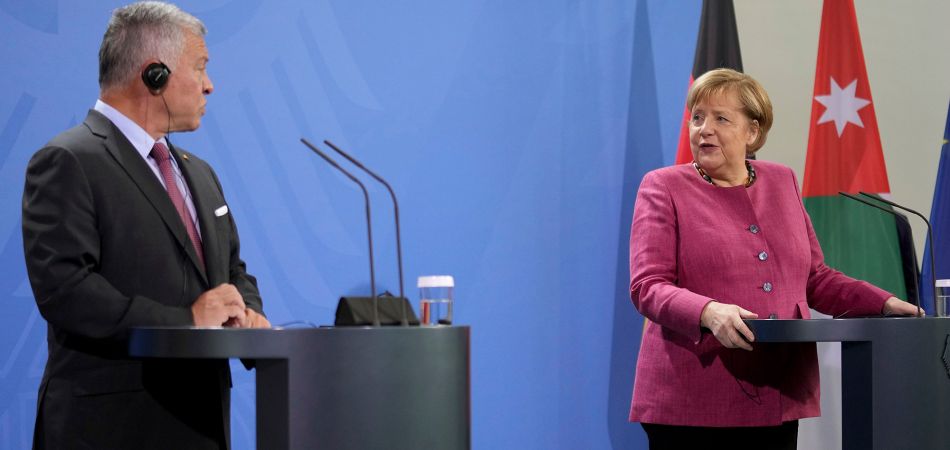 Berlin (dpa) - "We believe that Israel's security can be best guaranteed when the Palestinians also have a state in which they can live," Merkel said on Wednesday before a farewell meeting with Jordan's King Abdullah II bin al-Hussein in Berlin.
Merkel had received her certificate of dismissal from German President Frank-Walter Steinmeier on Tuesday, but will continue to head the government until a new chancellor is elected. Merkel thanked the king for his role as caretaker of the holy sites in Jerusalem. "This is a very important and special responsibility," she said. The chancellor also highlighted King Abdullah's role in peaceful conflict resolution in the region.
King Abdullah, who by his own account first met Merkel 15 years ago, praised the chancellor's commitment to resolving various crises. Merkel's dedication, honesty and passion have played an important role in the cooperation, he said. "You have always been a voice of reason and a shining example of human dignity," King Abdullah told Merkel, adding that the chancellor had striven to make the world a richer and more peaceful place.
More about Germany's commitment to peace and security