SPD also wins state parliamentary elections
In addition to the Bundestag, the state parliaments in Berlin and the north-eastern state of Mecklenburg-Western Pomerania were also elected.
28.09.2021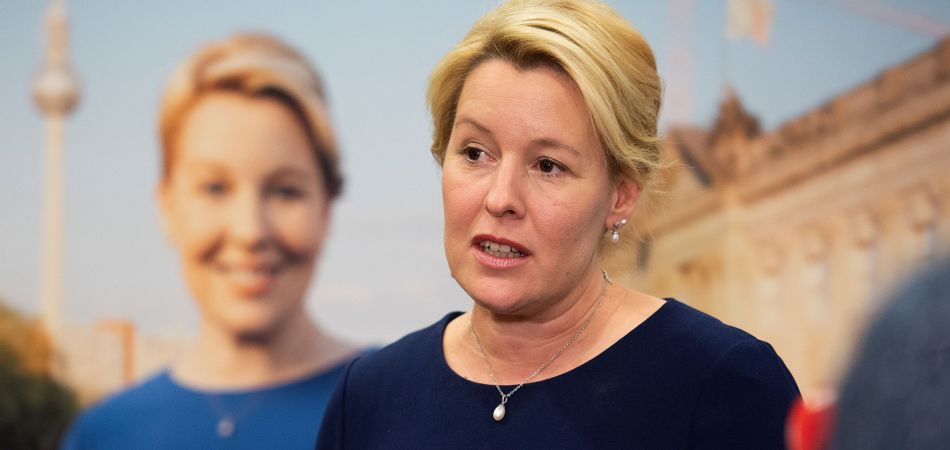 Berlin (dpa) - The Social Democrats (SPD) have won the Berlin election, meaning the capital will have a female governing mayor for the first time. The winning candidate Franziska Giffey (photo) can either continue the previous red-red-green government alliance – i.e. an alliance of SPD, Greens and the Left – or look for new partners. This is according to the provisional official final results published by the state election commissioner on Monday.
Although the SPD achieved its worst result since 1946 with 21.4 percent of the vote, it still finished ahead of the Greens, who chalked up their best result ever in a Berlin election with 18.9 percent. According to the state election administration, the conservative CDU achieved 18.1 percent, the Left Party 14.0 percent, the right-wing populist AfD 8.0 percent and the liberal FDP 7.2 percent.
There was one clear winner in the north-eastern federal state of Mecklenburg-Western Pomerania. According to the provisional results published by the state election commissioner on Monday, the Social Democrats led by Minister President Manuela Schwesig received 29.1 percent of the vote in the federal election. The AfD ranked second with 18.0 percent, while the CDU came in third at 17.4 percent. The Left Party followed with 11.1 percent of the vote. 8.2 percent voted for the FDP and 7.8 percent for the Greens.
Schwesig has several options when it comes to forming a government: the 47-year-old can continue to govern alongside the CDU, which was severely punished by voters, or form a coalition with the Left. The fact that the FDP and the Greens both made it back into the Schwerin state parliament also makes a so-called traffic light coalition possible – reflecting the colours of the parties.
More about the political system in Germany