26.01.2017
Germany's new foreign minister
Sigmar Gabriel is Germany's new Federal Foreign Minister. He has made a mark, among other things, as champion of the energy transition in Germany and worldwide.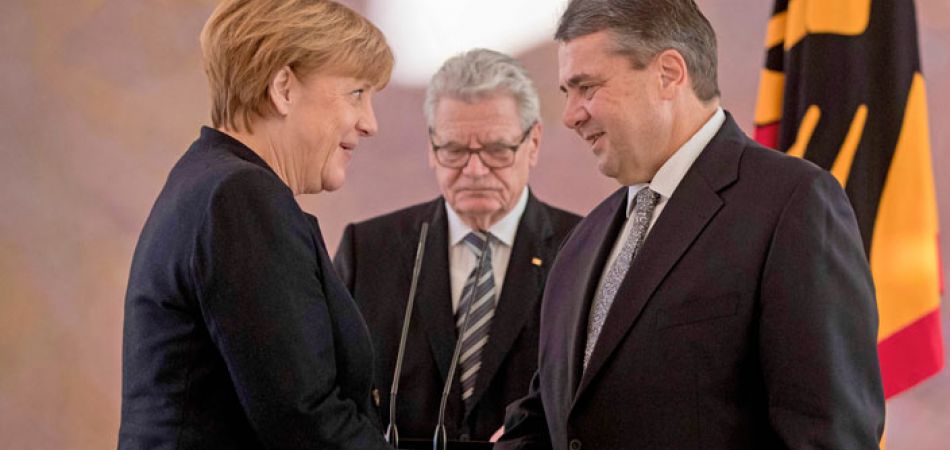 "These people have nothing to do with Germany as we want it to be." Vice Chancellor Sigmar Gabriel was visibly angry when he appeared in front of television cameras in Heidenau in summer 2015. A group of right-wing extremists had previously been involved in violent protests against the accommodation of refugees in the town near Dresden. Several things that are characteristic of Gabriel came together at that moment in Heidenau: plain speaking, solidarity with weaker members of society, the struggle against right-wing extremism.
The latter has been a major topic in Gabriel's life. Gabriel, who is now 57 years old, had a difficult childhood, growing up with a father who was a great admirer of National Socialism. Following the separation of his parents, Gabriel gained a new lease of life and soon took an active interest in politics. He eventually found his way to the Social Democratic Party of Germany (SPD) via the youth organisation Die Falken (The Falcons). As an adult education teacher in his home town of Goslar he worked with immigrants and unemployed young people before entering politics full-time – first in the State of Lower Saxony and then, from 2005, in Berlin.
Commitment to the energy transition
That is where he made a name for himself as Federal Environment Minister in the first SPD and CDU/CSU grand coalition led by Angela Merkel. Above all, he worked for the energy transition – one of Germany's most important future projects, which he later continued to support as Federal Minister for Economic Affairs and Energy. In the meantime almost one third of Germany's electricity is generated using renewable energies. Many other countries worldwide are now pursuing the Germany model.
After the 2013 Bundestag election, as SPD Chairman, Gabriel played a major role in realising a new grand coalition. Within the party he supported the idea that the grassroots should be able to vote on the coalition agreement – it was the first membership survey of this kind in Germany.
Sigmar Gabriel's private life attracted most attention in 2014 when he announced that he would collect his daughter from kindergarten once a week – no matter what the political situation. Gabriel has another grown-up daughter from an earlier marriage and will become a father again in spring 2017.
The challenge of Europe
On 27 January 2017, Sigmar Gabriel takes over the office of Federal Foreign Minister from Frank-Walter Steinmeier. The associated challenges are not foreign to him. "Peace and human rights, solid growth and good employment – the core issues of politics always also have an international dimension," says Gabriel. "At the moment, special demands are being made of us as Germans in relation to Europe."
Important political milestones
1999 to 2003: Minister President of the State of Lower Saxony
Since 2005: Member of the Bundestag
2005 to 2009: Federal Minister for the Environment, Nature Conservation and Nuclear Safety
Since 2009: Chairman of the SPD (until March 2017)
Since 2013: Vice Chancellor
2013 to 2017: Federal Minister for Economic Affairs and Energy
Since 27 January 2017: Federal Foreign Minister