It is not just a "Return to Montauk", but also the return of a famed German director who focusses on the oeuvre of an author renowned the world over: Volker Schlöndorff's new film "is dedicated to the memory of Max Frisch," so the director says. At the same time, "Return to Montauk" is definitely not the film adaptation of a book. Yet the love story with Nina Hoss and Stellan Skarsgård as the protagonists has many parallels to the 1975 novella "Montauk" by the famous Swiss author Max Frisch (1911–1991).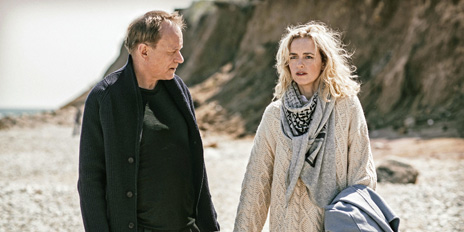 It is a good quarter of a century since Volker Schlöndorff's film of Frisch's novel "Homo Faber", with a cast featuring among others Sam Shepard, Barbara Sukowa and Julie Delpy, came out. In "Return to Montauk" Swedish Hollywood star Stellan Skarsgård plays author Max Zorn, who re-encounters his lost love Rebecca (played by Nina Hoss) in New York.
Volker Schlöndorff shot "Return to Montauk" in New York and Berlin; the film is a Franco-German-Irish coproduction. The script was written jointly by Irish author Colm Tóibín and Schlöndorff. Literature has from the very outset played a significant role in the works of the German director. In 1980 his film adaptation of Günter Grass' "The Tin Drum" was the very first German film to win the Academy Award for Best Foreign Language Film.
"Striking but sensitive": Nina Hoss