22.04.2013
Ancient megacity of Uruk in Berlin
The world's largest exhibition to date on the ancient city of Uruk can be seen at the Pergamon Museum in Berlin. Uruk's remains are located in southern Iraq.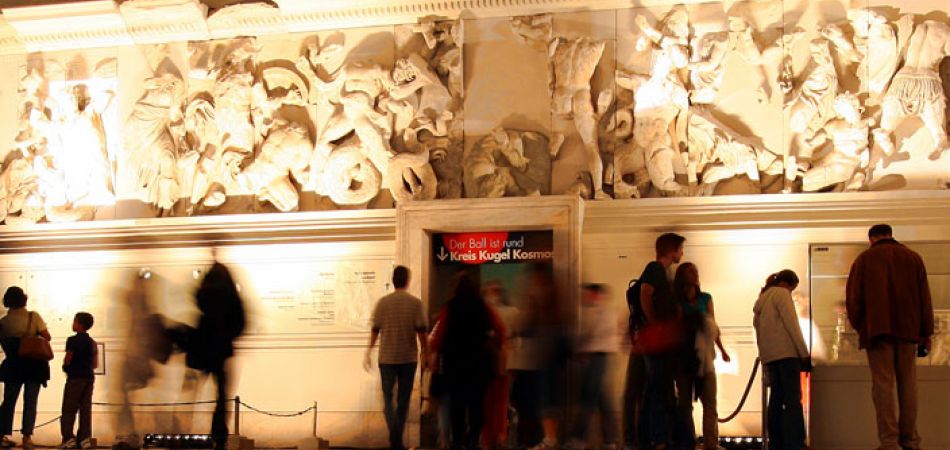 German archaeologists started working at Uruk (today's Warka) a hundred years ago. After English explorers had initially surveyed the terrain in southern Iraq in the mid-19th century, members of the German Oriental Society, which was founded in 1897, went to the country in 1912. For this they needed, and were granted, permission from the Ottoman rulers. They were also allowed to take numerous objects home with them – in return for payment. As the Berlin exhibition organizers emphasize, this was customary at that time. Most of these objects are now either at the Pergamon Museum or in the German Archaeological Institute's Uruk-Warka collection in Heidelberg.
Together with loan exhibits from the UK and France and digital reconstructions of buildings, the Berlin exhibition now aims to give an impression of political, cultural and everyday life in Uruk. Although the oldest known city in human history, the excavations there never generated the spectacular publicity of the work that was being done almost simultaneously in Babylon, also in today's Iraq. It was from there, for example, that the German archaeologists brought back the famous Ishtar Gate, which has since been a centrepiece of the Pergamon Museum's collection. Yet experts are in no doubt about the outstanding importance of Uruk – which was also the setting of the Babylonian Epic of Gilgamesh. Only an estimated five percent of the ancient city has been uncovered to date.
The exhibition "URUK: 5,000 Years of the Megacity" presents all the key innovations introduced by Mesopotamia, many of which are still of great importance today. The exhibition at the Museum of the Ancient Near East (State Museums of Berlin) is a collaboration with the Curt Engelhorn Foundation for the Reiss Engelhorn Museums, Mannheim, the Orient Department of the German Archaeological Institute and the German Oriental Society.
Exhibition "Uruk: 5,000 Years of the Megacity" at the Pergamon Museum/Museum of the Ancient Near East until 8 September 2013; from 20 October 2013 until 21 April 2014 at the Reiss Engelhorn Museums, Mannheim
www.uruk-megacity.de
© www.deutschland.de