10 facts on Indo-German relations
There's no comparing Germany and India in terms of size or population. However more connects the two countries than you might think.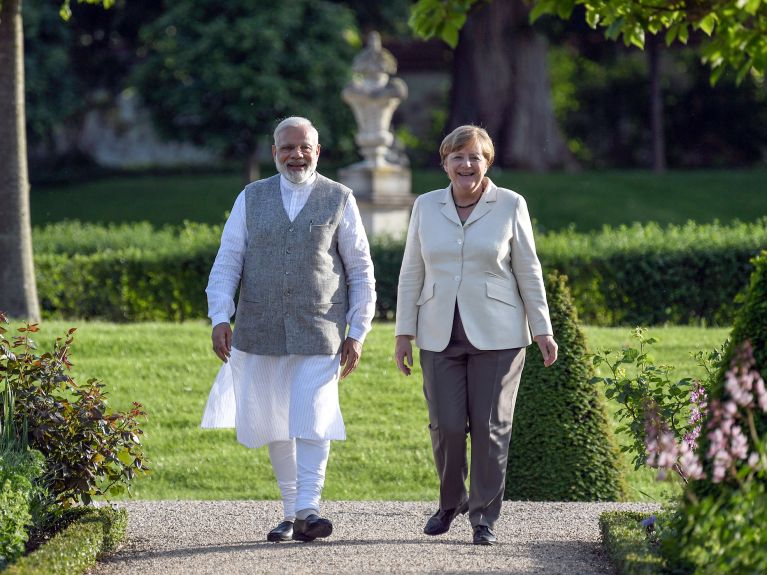 India is 3,287,469 km2 in size, or about nine times larger than Germany (357,578 km2) and it has 1.37 billion inhabitants, 16 times the population of Germany (83 million).
Both countries are parliamentary democracies and federal republics. India gained independence from Great Britain on 15 August 1947, the Federal Republic of Germany was founded on 23 May 1949.
Germany and India are linked by a joint interest in maintaining a rule-based international order. With Japan and Brazil, as part of the "G4" the two countries are championing a reform of the United Nations and the Security Council.
As part of Indo-German government consultations, since 2011 the cabinets of both countries have convened biannually alternating between Germany and India. In early November 2019 they will meet for the fifth time.
Over 30 different consultation and dialogue formats show just how close the exchange of opinions and ideas is.
Germany is the world's fourth largest economy. India ranks seventh.
Germany is India's second largest development partner, with at present a total volume of almost EUR 10 billion and about 170 programmes running.
India is amongst the countries with the most Goethe Institutes, called "Max Mueller Bhavan" institutes on the subcontinent in honour of the German Indologist. Over 18,000 people take part each year in German language courses in the six institutes in New Delhi, Kolkata, Chennai, Bangalore, Mumbai and Pune.
For India, Germany is its second most important research partner after the USA. One lighthouse of cooperation is the German Science and Innovation House, which opened in New Delhi in 2012 as one of five such institutions the world over.
17,600 Indians form the second largest group of foreign students at German tertiary education institutes. Indians also constitute the second largest group of foreign doctoral students.
You would like to receive regular information about Germany? Subscribe here: