19.11.2018
Macron calls for 'new era' in Europe
"Today we must begin a new era," French President Emmanuel Macron said in an address made to German parliament.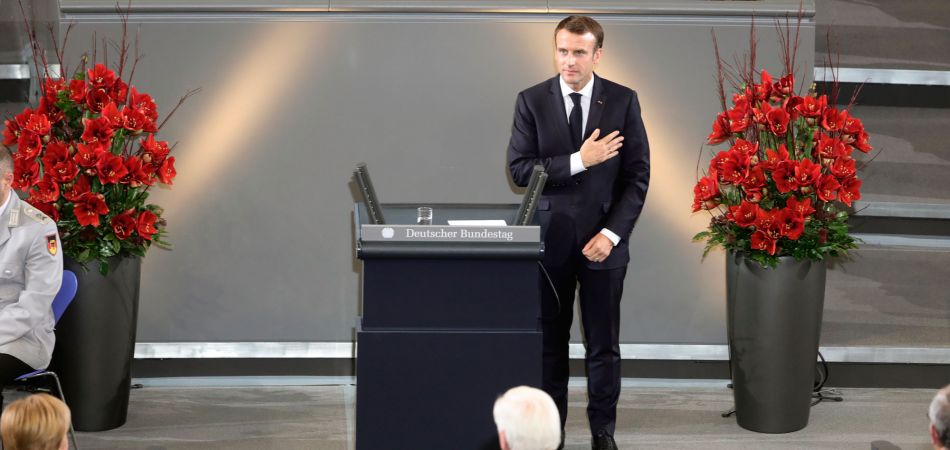 Berlin (dpa) - French President Emmanuel Macron and German Chancellor Angela Merkel presented a united front in the face of multiple challenges for Europe as the French leader visited Berlin on Sunday.
"Today we must begin a new era," Macron said in an address made to German parliament after taking part in a series of events to commemorate those who had died in war. The president rallied Germany to shore up the European project in times of resurgent nationalism.
Macron and Merkel are striving to present plans for a joint budget for the eurozone in mid-December, which is intended to better protect the integrity of the the euro area.
Germany and France agreed on a proposal on Friday, according to a document seen by dpa.
At a joint press conference, Merkel stressed the importance of Franco-German friendship at a moment when Europe "stands at a crossroads" and that it was time to "really deliver."
Message to the young generation
At an earlier event in the German capital, Macron called on young people to fight for a peaceful, open Europe.
"We find ourselves at a very important point in history," Macron said during the meeting with young people from all over the world.
"A young generation can only build the future if it knows the past. Create an open, ambitious Europe," he said at the session, entitled "100 Ideas for Peace."
November 18 is a national day of mourning in Germany to show solidarity with those left behind after their loved ones were killed in World War I, and to remember all victims of war.
Over the past few days, 500 young people from 48 countries in Europe, Africa and the Middle East have been meeting in Berlin to discuss how to safeguard peace and how cohesion can be strengthened.
German President Frank-Walter Steinmeier echoed Macron's comments. "Above all, we need fresh ideas," he said.
"We have a responsibility to renew and maintain" the European unity achieved so far, he said, referring to it as a "miracle."
Europe and the Franco-German couple in it have a duty not to let the world slide into chaos.
Emmanuel Macron
Eindringlicher Appell an die Jugend
Macron und Bundespräsident Frank-Walter Steinmeier hatten am Vormittag bei einer Begegnung mit 500 Jugendlichen aus Europa, Afrika und dem Nahen Osten appelliert, für ein weltoffenes, friedliches Europa zu kämpfen. "Wir befinden uns an einem sehr wichtigen Zeitpunkt unserer Geschichte", sagte Macron bei der Veranstaltung "Youth for Peace - 100 Jahre Erster Weltkrieg, 100 Ideen für den Frieden".
"Eine Jugend kann nur die Zukunft aufbauen, wenn sie die Vergangenheit kennt." Sonst gebe es das Risiko, Fehler zu wiederholen. "Schafft ein offenes, ehrgeiziges Europa", appellierte Macron.
Ideen für den Frieden
Es gehe darum, das Versprechen "Nie wieder Krieg" zu erneuern, betonte Steinmeier. "Es braucht vor allem frische Ideen." Die Jugendlichen schlugen unter anderem vor, in Lehrplänen europaweit gemeinsame Geschichtsinhalte zu verankern, damit das Verständnis für den Wert eines friedlichen Europas gestärkt wird.