14.01.2019
Merkel's successor?
It is not time yet to talk about Chancellor Angela Merkel's successor, says party head.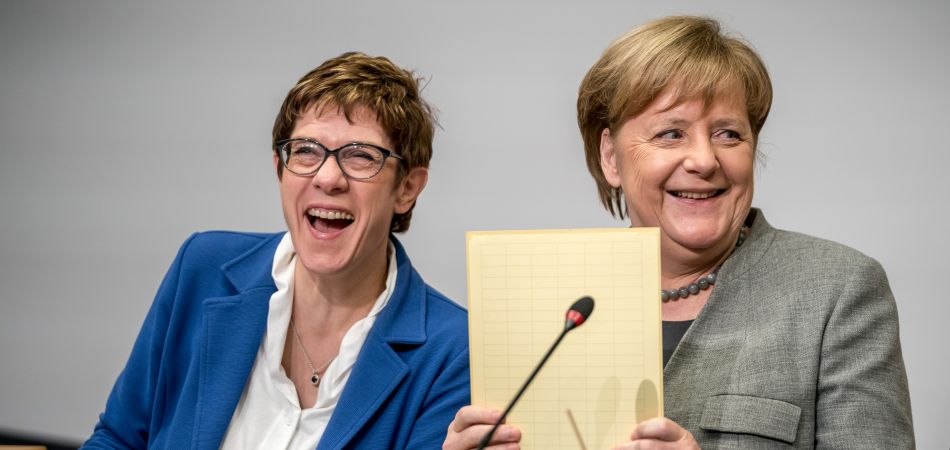 Potsdam, Germany (dpa) - It's too early to think about who might one day be filling the shoes of Chancellor Angela Merkel, said the head of the German leader's party on Monday, as a survey revealed trust in the longtime leader to be on the rise.
The centre-right Christian Democrats - the largest party in the current government - are focused on questions about promoting Germany's development, said CDU chief Annegret Kramp-Karrenbauer, speaking with broadcaster n-tv on the sidelines of a party conference.
"That's why we're staying on topic. Personnel questions are not our focus right now."
Kramp-Karrenbauer became head of the party last month after Merkel gave up the job after a series of losses in state parliaments earlier in the year. Usually, both jobs are performed by the same person, but Merkel said she would like to stay chancellor until her term ends in 2021.
Kramp-Karrenbauer noted that Merkel remains very popular and the CDU is focused on making sure the government does its job well.
"Anything else is speculation. And anyone who wants to have such conversations should, but we're not."
Instead, she said the CDU would use this year - the 30th anniversary of the fall of the Berlin Wall - as an opportunity to engage with citizens and try to remind them of the circumstances that led to German reunification.
She said there would be a special focus on residents of Germany's east, where unhappiness about living standards and pay rates lagging those in the west have led to support for alternate parties, like the far-right Alternative for Germany.
A survey released Monday showed that Germans faith in Merkel is on the rise, when compared to figures from a year ago.
The data from public opinion group Forsa, in a poll conducted for broadcaster RTL, shows that 55 per cent of respondents said they great or very great confidence in Merkel. That is five percentage points more than at the same time last year.
That said, faith in Merkel's government has taken a hit, with only 37 per cent saying they had great or very great faith in that group. That is five percentage points lower than a year ago.