09.02.2018
Towards a relaunch of the grand coalition
Who the members of the grand coalition are, what they have agreed – and why it is still uncertain whether they will form the next government.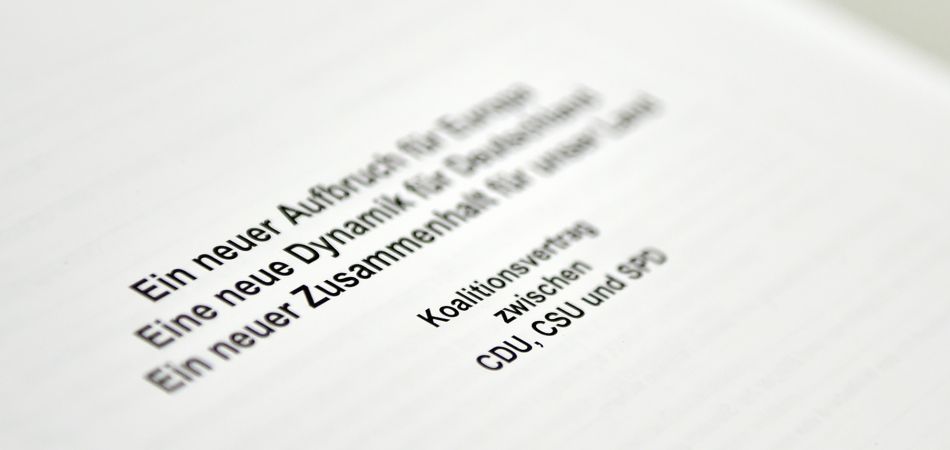 Who will govern in the grand coalition?
The grand coalition – or Groko for short in German – consists of the Christian Democratic Union of Germany (CDU), its Bavarian sister party the Christian Social Union (CSU) and the Social Democratic Party of Germany (SPD). Since the foundation of the Federal Republic there have already been three governing coalitions of this kind, two of them under Federal Chancellor Angela Merkel.
So the coalition negotiations must have been rather easy since the participants knew each other so well.
Not at all. They took 13 days – at the end of which the partners were negotiating for 24 hours at a stretch. Because earlier exploratory talks between other parties failed, forming a government eventually took longer than ever before in the history of the Federal Republic: a coalition agreement was only concluded 136 days after the Bundestag election on 24 September 2017.
Can the government now quickly get down to work?
No, because members of the SPD will first be allowed to vote on the coalition agreement, as promised by their party leadership. Approximately 450,000 members will have until 2 March to cast their votes. Only after this process has been completed will there be a decision on whether a grand coalition is formed. If so, it could be in office by the end of March or beginning of April.
Is it already clear how the ministries will be distributed?
Yes. The CDU will have five ministers – for the portfolios of defence, economic affairs, health, education and research as well as food and agriculture. The CSU will receive three ministries: the ministry of the interior, the development ministry and the ministry of transport and digital infrastructure. The SPD will take six portfolios: foreign policy, finance, employment, family, justice and the environment.
What have the parties agreed as part of the coalition deal?
A lot, and in considerable detail too. The coalition agreement is nearly 180 pages long and has a rather lengthy title: "A New Awakening for Europe, a New Dynamic for Germany, a New Cohesion for Our Country". The subject of Europe also appears at the beginning of the agreement so we can assume it will be a key area of government work.
Is the agreement binding on the parties?
It is not legally binding, but it defines the policy framework for cooperation between the parties in coming years.
With dpa/BpB