#MyEurope video competition
Win a group tour to visit the "Europa Experience" exhibition in Berlin
16.05.2019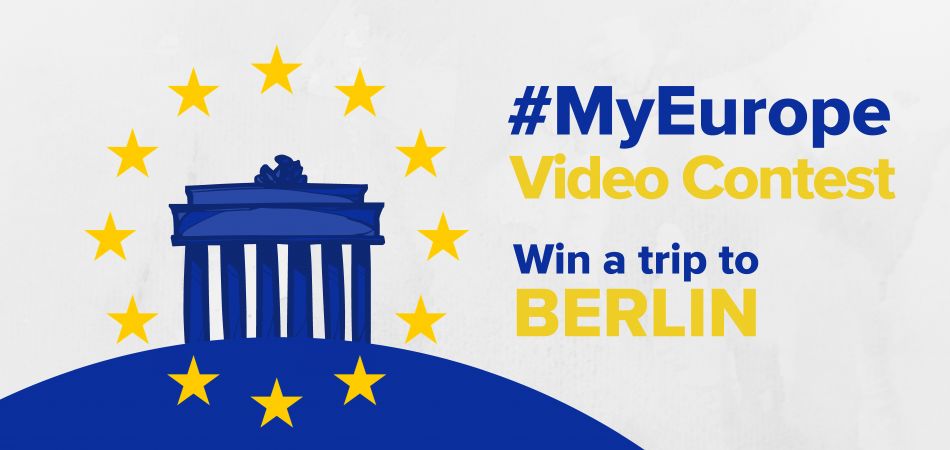 Under the banner "#MyEurope – Better together" we want to find out more about what you think makes your country particularly great, innovative and valuable for the European community. Present your suggestions in a video and you will be in for a chance to win a trip to Berlin and a visit to the "Europa Experience" exhibition.
#MYEUROPE – BETTER TOGETHER
Pupils are the future of Europe, so we want to know which suggestions and ideas are close to your hearts so that we can present them to all other Europeans.
YOUR GROUP TOUR TO BERLIN
You could win a trip for up to five people to visit the interactive "Europa Experience" exhibition at the European House in Berlin, where you will learn more about the effects of the EU in your everyday life, how the EU functions and how you can influence it. One highlight is the opportunity to enjoy a virtual experience of the European Parliament. Take a seat in the 360° cinema and watch a plenary session of the European Parliament. Or take part in a role play game where you slip into the role of a Member of the European Parliament or a Commissioner of the European Union.
Sounds like a great trip? Then enter our competition:
 
Show us what is particularly innovative in your country. What are you particularly proud to have contributed to the European community? What is there in your country that could make Europe even better?
By 2 June 2019, send us a short film in English or with English subtitles in which you present your idea and show what you are particularly passionate about.
We will upload the videos to our Facebook page so that our community can vote for the films they find most convincing. From the ten best films, our jury will then pick the winners who will travel to Berlin with Deutschland.de.

See the attached terms of participation for further details.
Enjoy thinking about Europe and making your film. We look forward to seeing your entries!
Your Deutschland.de team
Video upload and registration: