Leaders pay respects to D-Day soldiers
 About 300 D-Day veterans attended a military event in Portsmouth to honor their comrades who landed in Normandy.
06.06.2019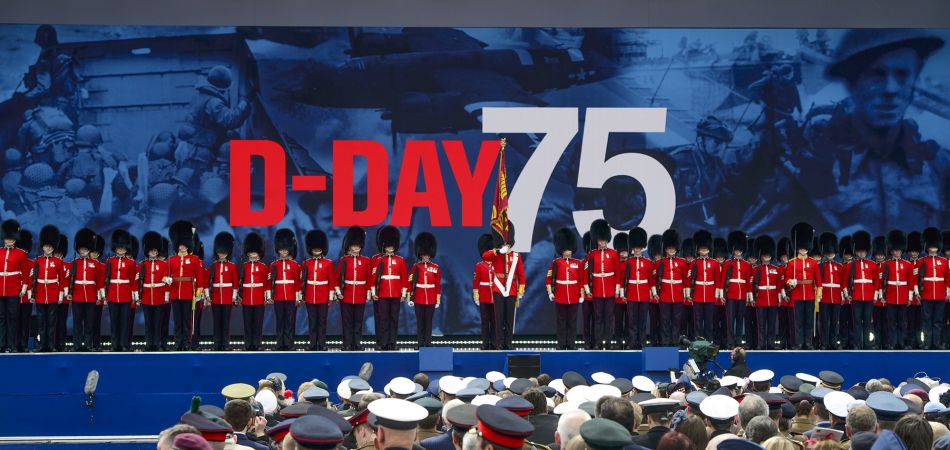 Leaders from 16 nations, including the United States and Germany, gathered in the UK naval base of Portsmouth to mark the 75 years since D-Day. The ceremony on Wednesday also involved some 300 surviving veterans of the 1944 Normandy landings.
While paying his respects in Portsmouth, US President Donald Trump read out excerpts of a prayer which President Franklin Roosevelt delivered to the nation on June 6, 1944.
"Almighty God, our sons, pride of our nation, this day, have set upon a mighty endeavor, a struggle to preserve our republic, our religion and our civilization and to set free a suffering humanity," Trump read.
The event's host, British Prime Minister Theresa May, said that soldiers' "solidarity and determination" defending freedom "remains a lesson to us all."
"As we unite to pay tribute to those whose bravery and sacrifice on the beaches of Normandy marked a turning point in the Second World War, we will vow never to forget the debt we owe them," she said.
May also read out part of a letter written by British Captain Norman Skinner to his wife just days before the Normandy invasion.
"Although I would give anything to be back with you, I have not yet had any wish at all to back down from the job we have to do," the UK officer wrote.
Skinner took part in the assault and was killed the next day. The letter was found in his pocket.
Queen: 'my generation' is resilient
Queen Elizabeth II lauded soldiers who "left these shores in the cause of freedom." The 93-year-old monarch also praised the wartime generation as "resilient" before the aged D-Day veterans.
"When I attended the commemoration of the 60th anniversary of the D-Day Landings, some thought it might be the last such event," she said. "But the wartime generation — my generation — is resilient, and I am delighted to be with you in Portsmouth today."
"It is with humility and pleasure, on behalf of the entire country — indeed the whole free world — that I say to you all, thank you."
France's Emmanuel Macron thanked the D-Day soldiers "on behalf of my nation" drawing cheers from the crowd. He also read out a letter by a French resistance fighter who was executed at the age of 16.
"I am going to die for my country," Henri Fertet wrote before the execution. "I want France to be free and the French to be happy."
German Chancellor Angela Merkel called her participation in the event a "gift of history."
"This unique military operation eventually brought us liberation from the Nazis," she told reporters ahead of the commemorations.
UK troops stage drills
The D-Day attack on German occupying troops in northern France remains the biggest amphibious assault in history, with some 156,000 soldiers from the US, the UK, and other nations taking part. With most German troops heavily engaged by Soviet forces in the east, "Operation Overlord" helped turned the tide and bring down Adolf Hitler's Nazi regime.
On Wednesday, modern-day UK troops staged maneuvers in Portsmouth involving some 4,000 personnel, 26 military aircraft and 11 British naval vessels. US Army Rangers also took part, climbing the cliffs at Pointe du Hoc in Normandy that were scaled by US soldiers in WWII.
Tom Rice, a 97-year-old American veteran, is scheduled to parachute into Normandy on Wednesday, recreating his D-Day deployment, which he described as "the worst jump I ever had." His Wednesday jump will be in tandem with another paratrooper.
'Sealed in blood'
Ahead of the commemoration, the 16 nations represented at the event pledged to "work together as allies and friends."
"Over the last 75 years, our nations have stood up for peace in Europe and globally, for democracy, tolerance and the rule of law," they said in a statement, vowing to defend those values. "In this way, we salute the surviving veterans of D-Day and we honor the memories of those who came before us."
At a news conference on Tuesday, Trump honored "the heroes who laid down their lives to rescue civilization itself."
"The bonds of friendship forged here and sealed in blood on those hallowed beaches will endure forever," said Trump, who arrived in the UK on Monday a state visit that included meeting with Queen Elizabeth and Prime Minister Theresa May. He is expected to continue his European tour by heading to Ireland after the memorial.