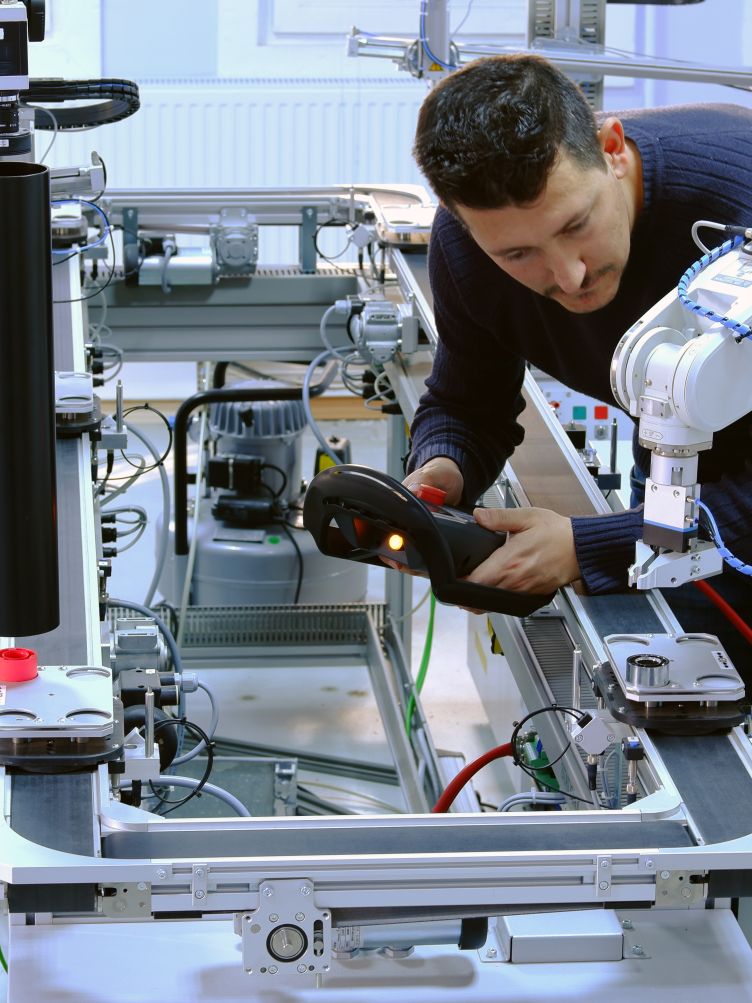 Germany as an economic partner
Quick facts
Number 3
is Germany's standing
among export nations, behind China and the USA.
48.4
percent
was the export ratio in the manufacturing sector in 2021.
99
percent
of companies are SMEs.
26,000
patents
were registered in 2021: Germany is the innovation champion of Europe.
26.6
percent
was the share of gross value added by the manufacturing sector in 2021.
4
sectors
dominate German industry: automotive, mechanical engineering, chemical and electrical industry.
Innovations for a bright future
The innovations of today pave the way for the world of tomorrow. Its highly innovative and efficient industrial sector is thus one of Germany's greatest strengths. Within Europe, Germany is the country with the most patent applications. Berlin is regarded as one of the world's leading start-up ecosystems. One of the most important buzzwords when it comes to promising new developments is artificial intelligence.
Artificial intelligence helps people
AI is already changing people's lives. AI is used to control processes and machines, evaluate and analyse huge volumes of data, and translate the results into decision-making aids or action recommendations.
Everything you need to know about AI in Germany can be found here:
https://www.plattform-lernende-systeme.de/startseite.html
Which forms of AI are used by German companies?
Machine learning and computer-assisted proof (55 percent)
Image and sound recognition (50 percent)
Knowledge-based systems (50 percent)
Speech and text recognition (less than 33 percent)
The main areas in which AI is used are products and services and process automation.
No progress without a green economy
Germany is an energy transition country. Roughly half of its electricity is already generated using renewable sources. Through its energy transition, Germany is playing an active role in the fight against climate change and in implementing the Paris Climate Agreement. The goal is to achieve climate neutrality by 2050. This will see climate protection and a green economy go hand in hand – in the best interests of our planet.
Germany consumes 2,514 terawatt-hours of energy per year (2019). In 2020, the proportion of renewable energy totalled 19.6 percent. But which sectors consume how much energy?
Transport 770
Industry 704
Domestic households 666
Trade, commerce, services 373
Health – an issue relevant to research and industry
Innovations help people – as can clearly be seen in healthcare. Without a strong research sector, coronavirus vaccines could not have been developed in such a short space of time. And without a flexible industry, many millions of vaccine doses could not have been produced so quickly. The German healthcare industry performs well in everything from pharmaceuticals research and the production of medical drugs to laboratory technology and highly precise medical technology.
Training and the employment market – two stable pillars
Highly qualified, fair and socially secured – these are the goals of the German employment market. To meet them, Germany relies on its outstanding training of skilled professionals in trade and industry, schools and universities. Equal opportunities for all and a ban on discrimination are enshrined in the country's basic law. The Federal Government has introduced a statutory minimum wage, a quota of women for leadership positions and equal pay for equal jobs within a company.
More than 3,500 public and private employers with a total of 13.4 million employees have signed up to the "Diversity Charta" to achieve equal workplace opportunities.
More information can be found here: Diversity Charta.