Skilled personnel welcome
Since 2020 the Skilled Immigration Act has made migration to Germany easier for skilled workers.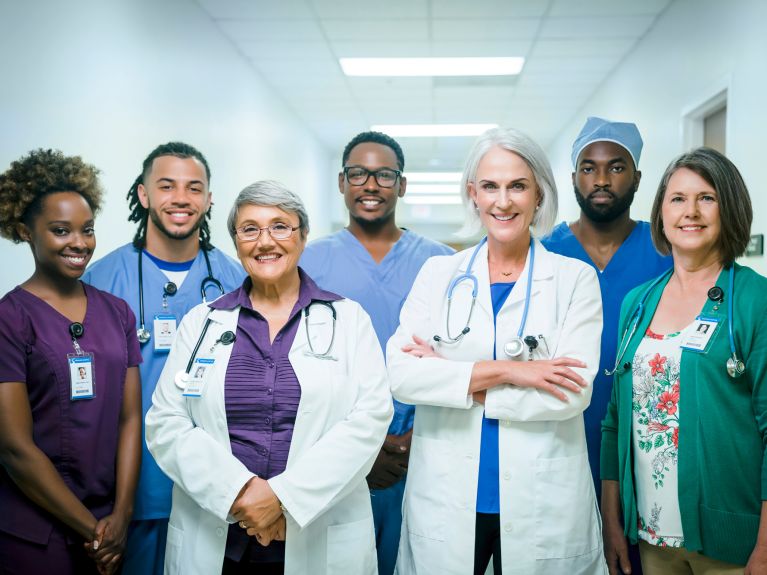 German industry has a shortage of skilled workers: hundreds of thousands of jobs are vacant. That is why the Skilled Immigration Act expanded the opportunities for workers from non-EU countries to come to Germany in 2020. The clear message here is: skilled workers are welcome to stay.
Who is considered a skilled worker or professional?
They are not only graduates with university degrees that are recognised in Germany, but also workers with vocational qualifications recognised in Germany.
What did the law change?
 
If you do not yet have a contract of employment, but have a recognised vocational qualification, you can now obtain a residence permit for six months to find a job. During this period job seekers can work for up to ten hours a week on trial or complete a practical internship. The normal precondition for this is sufficient knowledge of German for the desired position – as a rule, to B1 standard.
Previously the Federal Employment Agency first had to check whether there were suitable applicants available from Germany or the EU before a business was allowed to employ a skilled worker from another country. This "priority check" was dropped when the Skilled Immigration Act came into force.
The search for a university place or apprenticeship: graduates of German schools abroad are now not only allowed to come to Germany to study, but also to look for a university place or apprenticeship.
The immigration of skilled workers from non-EU countries is no longer restricted to specified "shortage occupations".
 
In which occupations are there shortages of skilled workers?
Well trained employees are required in almost all sectors. There is high demand, for example, for doctors and nursing staff, IT specialists, engineers and, in the wake of the expansion of renewable energies, also for specialists in the fields of heating engineering and heating technology. Since the beginning of the coronavirus pandemic firms have been seeking personnel not only in the hotel and restaurant sector but also in the logistics industry.
Where can foreign specialists find information about working in Germany?
Make-it-in-germany.com is a website that collates information about looking for a job, qualifications, language courses, visas, the world of work and everyday formalities. The anerkennung-in-deutschland.de website also provides information about the recognition of professional qualifications.
Which further measures are likely to be implemented in future against shortages in skilled personnel?
Among other things, the Federal Government aims to further modernise the Immigration Act as part of a new skilled labour strategy. There are plans, for example, to facilitate the recognition of professional qualifications. Vocational education and further training are further pillars of the strategy.
You would like to receive regular information about Germany? Subscribe here to: