Deutschland Edition: the new e-paper
Deutschland Edition: download the magazine as an e-paper – and enjoy 56 pages on Germany and Europe for free.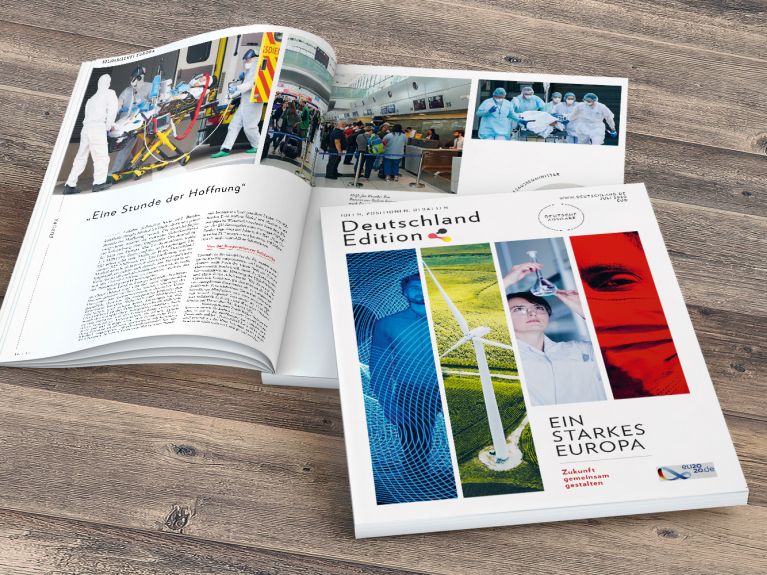 Entertaining, informative and exciting, Deutschland Edition magazine brings you information about the big topics affecting the country. The current issue deals with Germany, the European Union and Germany's EU Council Presidency. Covering 56 pages, the topics range from the Union's solidarity-based response to the Corona pandemic to digitalization, living and working in the EU, the Green Deal and European foreign and security policy. It concludes with a major portrait of the artist Olafur Eliasson, who created the work Earth Speakr to mark Germany's EU Council Presidency.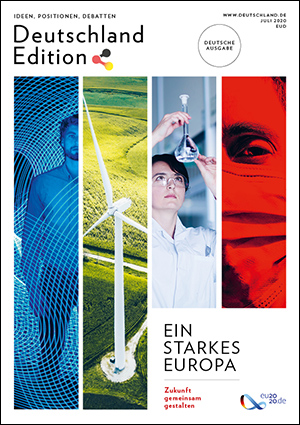 You can download the Deutschland Edition here:
Deutsche Ausgabe: epaper-Deutschland-Edition-1-2020-DEU
English language: epaper-Deutschland-Edition-1-2020-ENG
Édition française: epaper-Deutschland-Edition-1-2020-FRA
Versione italiana: epaper-Deutschland-Edition-1-2020-ITA
Wydanie w języku polskim: epaper-Deutschland-Edition-1-2020-POL
Edição em português: epaper-Deutschland-Edition-1-2020-POR
Издание на русском языке: epaper-Deutschland-Edition-1-2020-RUS
Edición en español: epaper-Deutschland-Edition-1-2020-SPA
Türkçe baski: epaper-Deutschland-Edition-1-2020-TUR
中文版: epaper-Deutschland-Edition-1-2020-CHI
日本語版: epaper-Deutschland-Edition-1-2020-JAP
اللغة العربية:  DE-Europa_1-2020_ARA.pdf 
You would like to receive regular information about Germany? Subscribe here: