Deutschland Edition the new e-paper: Fighting corona together
Deutschland Edition: download the magazine as an e-paper – and discover 56 pages on fighting corona together for free.
10.03.2021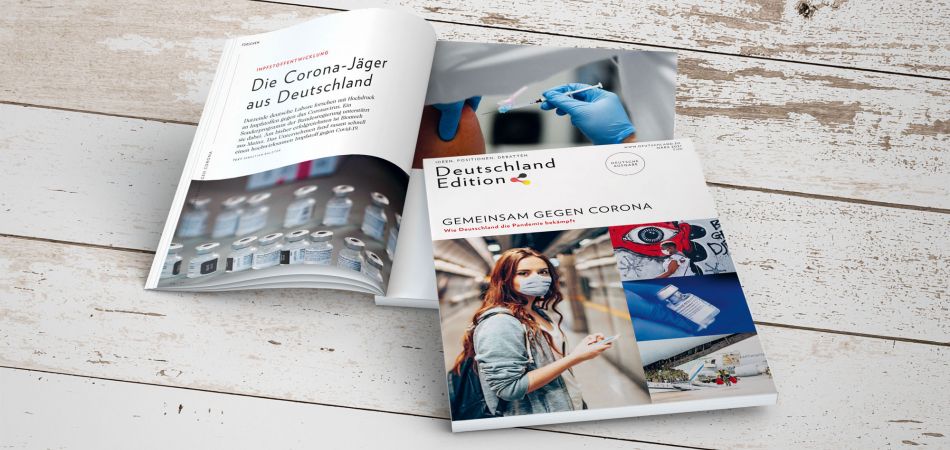 Informative, exciting and entertaining, Deutschland Edition magazine reports on the big topics affecting Germany. The current issue deals with the country in the grip of the coronavirus pandemic. Over 56 pages, the articles cover the whole range from new ideas from science and research to the development of a vaccine by the Mainz-based company Biontech to the wave of solidarity in response to the crisis and the fight against its consequences worldwide. In the new issue, get to know many interesting people who are shaping Germany's handling of the pandemic and showing us ways to a better future.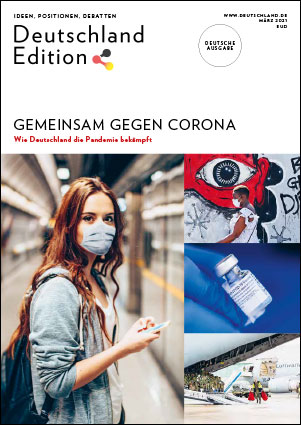 You can download the Deutschland Edition here:
Deutsche Ausgabe: epaper-Deutschland-Edition-1-2021-DEU
English language: epaper-Deutschland-Edition-1-2021-ENG
Édition française: epaper-Deutschland-Edition-1-2021-FRA
Versione italiana: epaper-Deutschland-Edition-1-2021-ITA
Wydanie w języku polskim: epaper-Deutschland-Edition-1-2021-POL
Edição em português: epaper-Deutschland-Edition-1-2021-POR
Издание на русском языке: epaper-Deutschland-Edition-1-2021-RUS
Edición en español: epaper-Deutschland-Edition-1-2021-SPA
Türkçe baski: epaper-Deutschland-Edition-1-2021-TUR
中文版: epaper-Deutschland-Edition-1-2021-CHI
日本語版: epaper-Deutschland-Edition-1-2021-JAP
اللغة العربية:  Deutschland-Edition-1-2021-ARA.pdf 
You would like to receive regular information about Germany? Subscribe here: