Global companies on new paths
New work is not just a catchphrase for start-ups. Read here about how two global corporations are breaking new ground in work organization.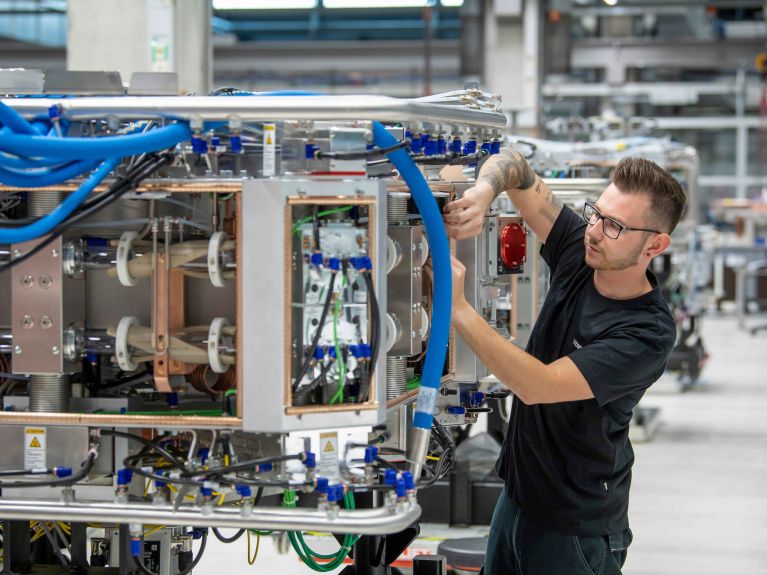 New Work is often associated with clichéd images of colourful offices equipped with coffee tables and upholstered furniture. Or with work from home. But not with industrial companies and the manufacturing sector. Yet today New Work stands for a whole series of future-oriented changes that have been essentially made possible by digitalization and are also driven by it. Two examples from Germany show that New Work has arrived in global corporations.
Trump - work as your team decides
Trumpf is a machine tool manufacturer from the Swabian town of Ditzingen, which had in the 2020/21 financial year a turnover of around 3.5 billion euros. The market and technology leader in certain kinds of machine tools and lasers has also long relied on innovative ideas for work organization. The "future workplace" concept, which the company began gradually introducing for its nearly 15,000 employees in 2019, is based on a uniform platform for all processes. A new company agreement, valid beginning on 1 January 2022, shifts tasks to variable teams and gives them great flexibility and responsibility. Trumpf calls this "the way from a culture of attendance to a culture of results", in which the company will ultimately no longer set any working hour specifications.
B.Braun – working beyond hierarchies
B.Braun, located in Melsungen in Hesse, is one of the worldwide leading manufacturers of medical technology and pharmaceutical products, having more than 64,000 employees and 7 billion euros in sales. Braun introduced flexible office workplaces at the corporate headquarters in Melsungen as early as the 1990s. The company strives for a balance between personal responsibility and hierarchy for all employees. A key word here is Task & Teams. Perhaps the most important step is to assign tasks to employees in self-responsible teams in which they have a greater say. Thus they no longer work within the framework of a fixed job description, but instead contribute their skills to the teams in which they are needed. Behind this is the vision of a company-wide work and competence network; B. Braun calls the concept "sharing expertise".
You would like to receive regular information about Germany? Subscribe here: