"New Work is more than new furniture"
Markus Väth, pioneer of the New Work movement, in an interview about the driving forces and real purpose of the movement.
Interview: Martin Orth / 05.11.2021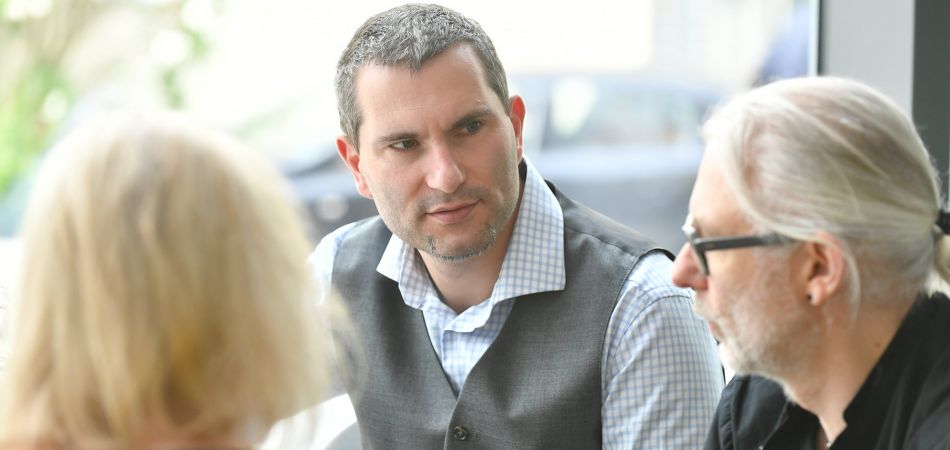 "New Work" goes back to the social philosopher Frithjof Bergmann, who wanted to develop a counter-model to socialism and capitalism in the 1980s. Markus Väth is considered to be one of the leading figures of the New Work movement in Germany. He is the author of the New Work Charter and lecturer for New Work and organizational development at the Technical University of Nuremberg.
Mr Väth, New Work is a megatrend. What does "New Work" mean?
New Work is expressed in the realization of five working principles: freedom, personal responsibility, meaningful work, development and social responsibility. These principles are driven by the "three Ds": digitization, democratization and decentralization. But we shouldn't forget that New Work was originally a social utopia. To understand New Work only as organizational development doesn't go far enough. People need work that they "really, really want", that corresponds to their strengths and needs. Only then does New Work function in an organization.
New Work is a broad term with many forms. How widespread is New Work in Germany?
Interestingly, as a term, New Work seems especially to be a phenomenon in German-speaking countries. Its basic work by Frithjof Bergmann, for example, was translated from the German original into English only in 2019. Other countries, such as the Netherlands or Denmark, also implement ultra-modern concepts but don't explicitly call this New Work. In Germany itself, we see some sensible business approaches. This ranges from large German mail order companies to small medium-sized companies and even handicraft businesses that are trying to realize the five New Work principles. Overall, we're still at the beginning if you're going to claim that New Work is more than work from home and new office furniture.
A central point seems to be the question of meaning. Younger people in particular want to do more than just make money. How do we have to imagine that looks like in companies?
I think we overestimate young people's desire for meaning. Most of them are very pragmatic and, like the generations before them, want above all to earn good money, have a safe job and a good work-life balance. This was shown, for example, by the Shell youth study in 2019. Yes, things like climate protection and stakeholder value are becoming increasingly important, but Fridays for Future doesn't stand for the whole generation. This was clear in the federal elections, where the FDP, together with the Greens, became the strongest force among first-time voters.
The concepts of the movement speak of "remote" and "purpose", freedom and meaning – exalted terms for factory workers in Bangladesh, for example. Is New Work feasible only for Western knowledge workers?
Principles like freedom and personal responsibility are universal. In the 1980s, the founder of New Work, Frithjof Bergmann, was the first to work with the unemployed and young people who had committed criminal offenses. This is why the factory worker in Bangladesh also needs New Work. And we should do everything we can to get New Work out of our limited office bubble. First and foremost, New Work is not an organizational development, but a program to humanize the work world. And it should take place everywhere.
You would like to receive regular information about Germany? Subscribe here: