Energy from the north
Sustainability in Germany: A joint project is to supply energy to make Europe's economy future-proof.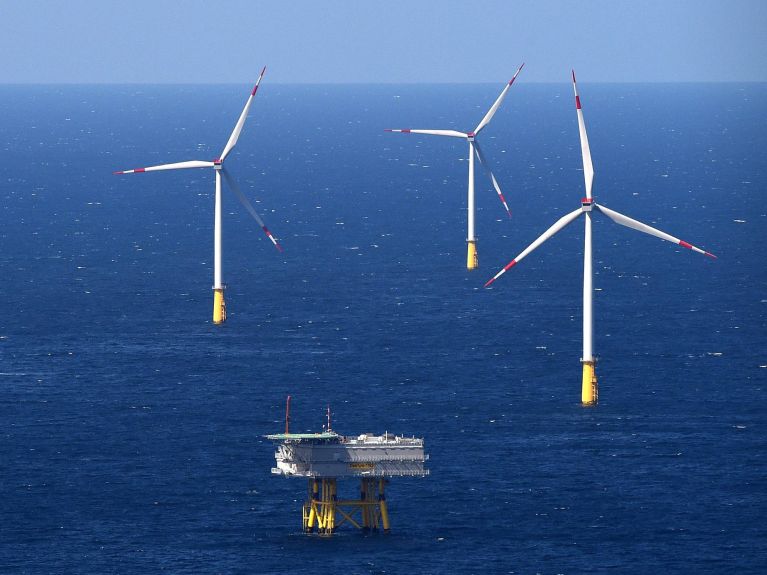 What role does the North Sea play in Germany's sustainability plans?
The North Sea has long been one of the major suppliers of European energy. For decades it was oil, and for many years it has been electricity generated from wind power. The nominal capacity of offshore power stations is already 12 gigawatts per year and is set to increase to 60 gigawatts in 2030 and as much as 300 gigawatts by 2050.
Who is working on making this happen?
Such ambitious goals cannot be achieved by individual countries on their own – it requires cooperation. Germany and Denmark have already been collaborating on a bilateral basis in this area for some time, for example together with Sweden on the Kriegers Flak wind farm in the Baltic Sea. Both countries are members of the North Seas Energy Cooperation (NSEC) alongside seven other states and the European Commission. Their joint objective is to expand energy production in the North Sea.
What is behind the "offshore hub" vision?
First of all, it will soon no longer be just a vision! In 2016, the German-Dutch grid operator Tennet came up with the idea of a huge energy hub in the North Sea that would collect electricity from different wind farms and then distribute it to several countries. The power lines would also allow participating states to share electricity. A further developed and decentralised version of this vision is now being turned into reality. Together with partners, Denmark decided in early 2021 to build the first of several energy islands off the coast of Jutland. By the time it goes into operation in 2033, it will have cost an estimated 28.24 billion euros.
What will the energy islands do?
As well as collecting and distributing electricity from various wind farms, as described above, a power-to-gas system for hydrogen production is to be set up there with a view to supplying fuel for industry, shipping and transport. Because only around 60 percent of the nominal wind power that is generated there can actually be used at present, hydrogen production would increase the efficiency of the offshore wind farms significantly.
You would like to receive regular information about Germany? Subscribe here: