The clean fuel of the future
Eco-friendly hydrogen is regarded as a "silver bullet" when it comes to fighting climate change. With its hydrogen strategy, Germany is now promoting its production.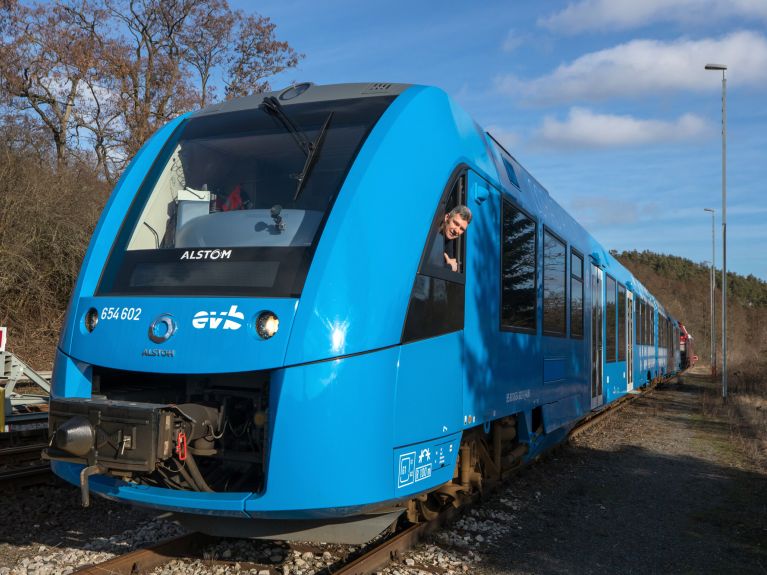 Hydrogen is regarded as a kind of miracle substance. In an engine or fuel cell, it burns when oxygen is added and becomes pure water. It can be transported in pipelines or in liquefied form on tankers. Easily storable, it can replace fossil fuels in virtually every situation: in lorries, cars and trains, and in the production of steel, cement and chemicals.
20 years ago, Germany was already hoping that hydrogen would largely replace petrol and diesel in a matter of years. To date, however, hydrogen is available at only just under 100 of Germany's 14,500 or so petrol stations.
A German and a European hydrogen strategy
This is now set to change. In June 2020, the German government adopted its national hydrogen strategy. The European Commission then did the same in early July. Both programmes are intended to give this climate-friendly fuel a boost.
To achieve this, Germany and the EU are pinning their hopes chiefly on eco-friendly hydrogen; obtained from renewable energy, it is climate neutral. The energy that is needed could come among other things from countries that are capable of producing large amounts of solar or wind power, such as Morocco for example.
By 2030, electrolysers with a capacity of up to 40,000 megawatts are to be built Europe-wide, 5,000 megawatts of the total in Germany. They can produce up to ten million tons of eco-friendly hydrogen each year. To this end, Germany plans to promote the construction of special hydrogen rigs – similar to today's oil and gas rigs – in the North Sea. Surrounded by large offshore wind farms, they are to generate hydrogen that will then be transported to the coast on board tankers.
Eco-friendly hydrogen as an alternative to batteries
Green fuels are intended to replace fossil fuels above all in situations where it does not make much sense to use electric batteries , such as on lorries, ships, trains or aircraft. The first two hydrogen-powered trains were already launched in Germany in 2018. They can cover distances of up to 1,000 kilometres before they need to be refuelled.
German Economics Minister Peter Altmaier is convinced that eco-friendly hydrogen is the "clean fuel of the future". That's why the German government is providing nine billion euros to fund research, technology development and international cooperation in this area.
You would like to receive regular information about Germany? Subscribe here: