"We need to get nature a seat at the table"
EU Environment Commissioner Virginijus Sinkevičius on biodiversity, sustainability and the need for cross-border cooperation.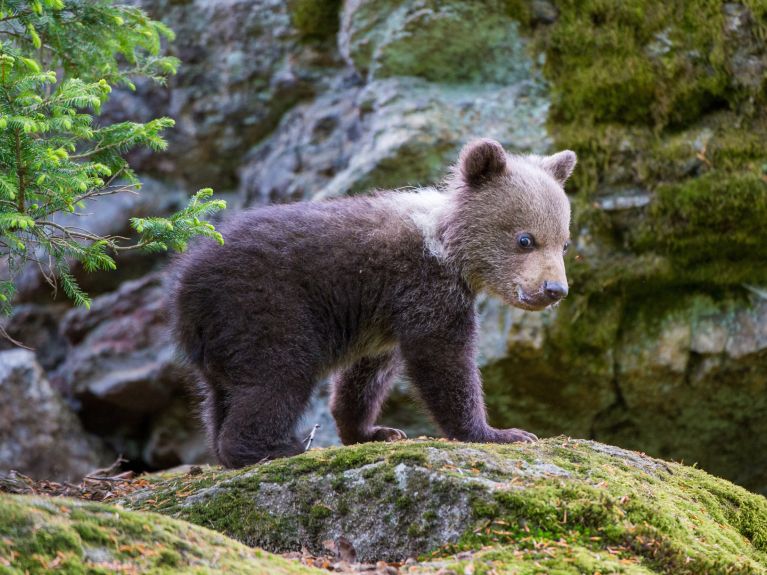 Mr Sinkevičius, why is species protection so important for us humans?
Species and biodiversity are not just ''nice to have''. Our societies, economy and health all depend on them. When nature is healthy, it protects and provides. And when nature is destroyed, we feel that impact directly. Over half of global GDP depends on nature and the services it provides. Biodiversity and ecosystems provide us with food, protect our health, provide medicines, materials, recreation, and wellbeing. They filter air and water, regulate the climate, convert waste back into resources, pollinate and fertilize crops and much more.
Biodiversity loss and ecosystem collapse are one of the biggest threats facing humanity in the next decade. They threaten the foundations of our economy and the costs of inaction are high and are anticipated to increase.
What form does the EU's new Biodiversity Strategy for 2030 take?
The strategy pursues three main objectives. The first is protecting nature, and reversing the degradation of ecosystems. The second is building resilience to current and future threats like climate change, food insecurity and outbreaks of disease. And the third is supporting a green recovery – it's very important that people understand the powerful role nature can play in helping us emerge from this crisis.
Most of the commitments are to be delivered by 2030. By then we want to see a much larger EU-wide network of protected areas, with strict protection for areas of very high biodiversity and climate value. We want an EU Nature Restoration Plan, with concrete commitments and actions to restore degraded ecosystems, like reducing pesticide use, planting 3 billion trees, and increase the amount of land managed under organic farming.
We need stronger measures in place to ensure that there is real change on the ground. That means strengthening the governance framework to ease implementation and track progress, improving knowledge, increasing financing, and getting nature a seat at the table in business and public decision-making processes. It's a very good sign that the German Council Presidency is determined to make it a priority as well.
Why is EU-level intergovernmental cooperation on this issue so important? Could we not all tackle the issue individually?
That's the nature of environment policy. The Danube is a German, Austrian, Slovakian, Hungarian, Croatian, Bulgarian and Romanian river – it's a shared resource, also with our neighbours Serbia, Moldovia and Ukraine. So you need European cooperation, and mutually acceptable standards that are fair to all. That also applies to the air we breathe, and to biodiversity. The EU is one of the largest markets in the world, and a strong global actor. This is why by adopting the right policies domestically and promoting them internationally, and through its international action at bilateral, regional and multilateral level, the EU can make a significant contribution to tackling global environmental challenges.
What role does environmental and species protection play in preventing epidemics and pandemics?
There is increasing scientific evidence linking the destruction of nature and emergence of disease outbreaks like the COVID-19 pandemic. COVID-19 – which precise origin is still being investigated but most likely emanated from the wild – has shown how human health is intimately connected with the natural world.
Biodiversity is made of immensely complex and intricate systems that have evolved over millions of years. Humans, nature, and viruses are all part of these ecosystems. So when we disturb the ecosystems through deforestation, land degradation or unsustainable agricultural practices for example, it leads to increased instabilities and risks. Climate change is one example, but in fact the spread of new viruses from the wild is another example.
What form might a sustainable economy that promotes species protection and does not further exploit ecosystems take?
A sustainable economy gives more back to the planet than it takes away. It's an economy where the way we use resources – for the food we eat, the materials we use to make and build things – is sustainable, is based on renewable, recyclable and reusable materials and processes, don't pollute the planet and allow ecosystems and resources to regenerate. A sustainable food system works in harmony with nature, provides a stable climate, and a reliable supply of heathy food.
As it turns out, such an economy is also more resilient to external shocks. We are talking about reliable, shorter supply chains, long-term certainty for businesses, well-built products that last, low energy homes,  service-based economies, nutritious tasty local and seasonal food, green cities and farmlands that are rich in biodiversity, clean swimmable rivers and seas, teaming with life – and much, much more!
The thing to remember is that when we protect and restore nature, we also stimulate green growth and help the EU ensure a just, sustainable and rapid recovery. Investing in healthy forests and wetlands, in clean rivers and coastal areas, in protected areas, in organic agriculture, and in green and blue infrastructure, means business opportunities. It means local jobs that bring life back to local communities. That's real sustainability in action.
What can each of us do to promote species conservation?
We all have a role to play. We can start with simple actions like reducing the use of single-use plastics, reducing our waste in general, excluding harmful chemicals from our lives, and opting for a more sustainable way of living. You are aware for instance that single-use plastic straws end up on the beaches and in the seas and can be eaten by fish and birds causing danger for their health and lives.
Protecting our surrounding environment and the nature nearby, opting for nutritious, healthy food grown and produced sustainably minimizing our environmental footprint, this is what each of us can do.