Five steps to finding a job in Germany
There are not enough qualified professionals in Germany. The 'Make it in Germany' portal offers interested people from abroad information on life, work and job offers.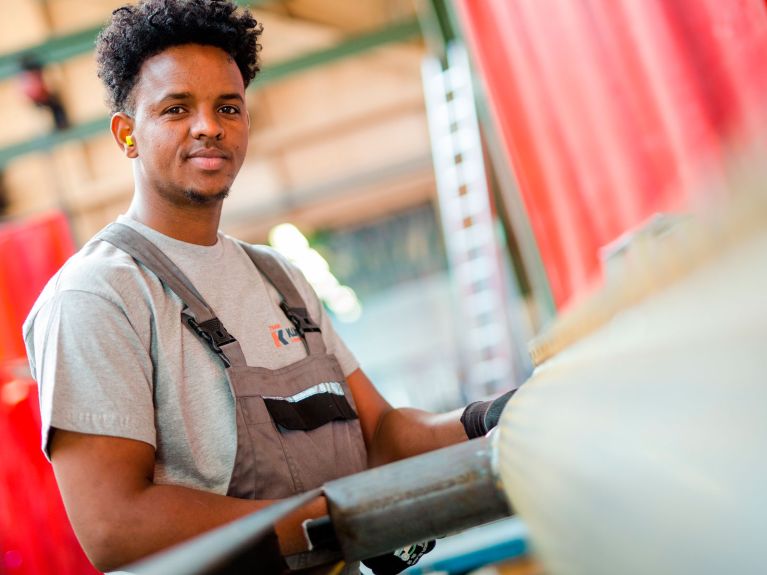 Germany is looking for skilled workers
The German economy recruits qualified workers from all over the world. Are you interested in working in Germany? Then the German Federal Government's platform 'Make It In Germany' is the right point of contact for you. Millions of people from 200 countries all over the world use it every year to find out about job opportunities in Germany and immigration requirements.
Who does 'Make it in Germany' target?
I would like to work and make a career in Germany – but how do I get into the country and where can I find a job? The multilingual internet platform 'Make it in Germany' is the entrance portal for qualified professionals, academics, start-up founders and prospective students from abroad. It combines a wealth of information and services both for all those who want to study or work in Germany, and for companies that are interested in employing international qualified professionals.
In five steps, the portal accompanies applicants for work in Germany: from the search for a job and visa formalities to relocating, getting settled in Germany, and subsequently bringing their family from home.
What information can I find there?
The portal offers a wealth of information on visa formalities, recognition of professional qualifications, the labour market, applying for jobs, employment contracts, business etiquette, starting up a business, the dual training system, studying and research, language courses and integration. It also offers tips and addresses on everyday life in Germany – from registering with the authorities to finding a kindergarten and renting an apartment.
What interactive services does Make it in Germany offer?
 
A Quick Check for applicants
An overview of people you can contact in your home country
Sought-after occupations and sectors
Recognition of professional qualifications
Individual advice by e-mail, hotline or chat
'Questions & Answers' on Twitter
'Make it in Germany' app in German, English and Spanish
Guidebook as a PDF download
Facts and figures about Germany
 
 Who has a chance to get a job in Germany?
The quick check on the home page enables you to make an initial assessment of your chances. This online tool asks you about your origins, certificates and qualifications. In the next step, you can find out the conditions you must meet to receive a residence and work permit for Germany and where you can access further advice.
Which occupations are looking for qualified professionals?
As an industrial location, there is always a demand in Germany for engineers in all sectors, for IT specialists and natural scientists. The demand for doctors and nursing staff is also growing along with the share of older people in the population. For this reason, immigrants with qualifications in medical and social professions also have very good chances on the job market.
You would like to receive regular information about Germany? Subscribe here: