Open doors for qualified professionals and skilled workers
The Skilled Immigration Act helps employers and skilled workers from abroad. We answer some important questions.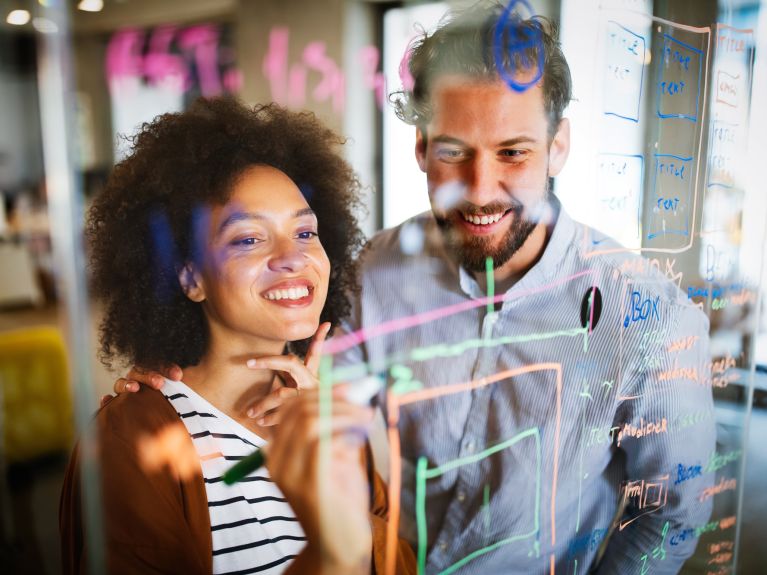 The aim of the Skilled Immigration Act (FEG) is to facilitate immigration for skilled workers and professionals from all over the world who want to work in Germany. It came into force in March 2020 and applies to all those who are not from the European Economic Area (EEA).
How do employees benefit?
The FEG defines who are considered qualified professionals or skilled workers: people with recognized university degrees and (since 2020) also people with recognized qualifications for a profession they have trained for. This will also make it easier for qualified people who are not academically trained to find work in Germany. With an appropriate qualification, they can also work in a profession other than the one they have trained for. Germany also welcomes migrants who are looking for a job or who wish to undergo training here if they meet certain qualifications.
How do employers benefit?
Employers in industries with serious shortages of skilled staff are pleased about the speeded-up process. In order to fill a vacancy, they can themselves shorten the recognition procedure at the Foreigners' Registration Office on behalf of the applicant. With a visa, the new employee can then enter Germany within two months and start their job.
What has the FEG achieved so far?
The FEG is the first of many steps aimed at attracting more international professionals/skilled workers to Germany: around 16,000 people benefited from it up to the end of 2020 alone. Even so, over 28 percent of vacancies for skilled workers in Germany could still not be filled in 2021. So there is still a high demand for skilled staff – and that means good prospects for international applications.
Where can I find more information?
The central point of contact for applicants from abroad is the 'Make it in Germany' platform. Help is also available from the Service Center for Professional Recognition at the Federal Institute for Vocational Education and Training. It was introduced at the same time as the FEG to help professionals and skilled workers from abroad to get their qualifications recognized.
You would like to receive regular information about Germany? Subscribe here: