What is important when looking for a job?
Germany is looking for skilled workers in many areas. Find out here what the requirements are and where there is a special need.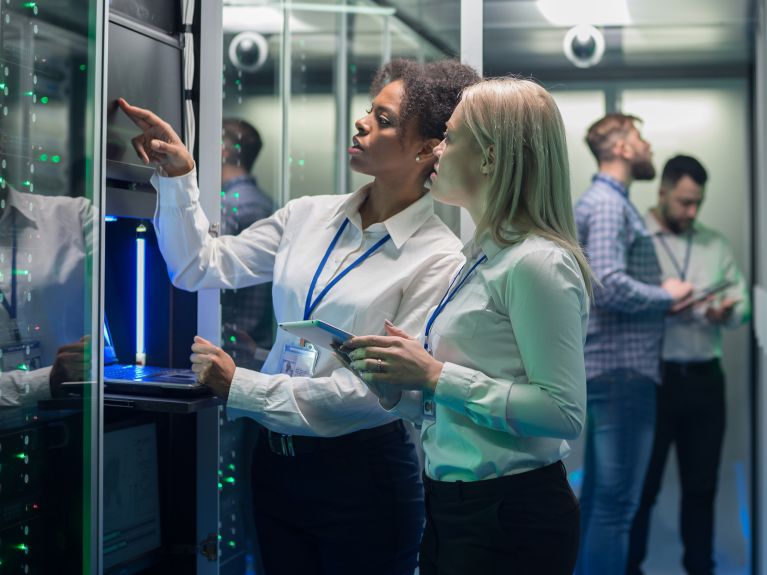 What are the rules for skilled workers upon entry?
Citizens of the European Union, the European Economic Area and Switzerland don't need a visa to enter Germany for work purposes. Entrants from third countries must meet several requirements to receive visas. This includes, for example, proof of a job offer in Germany, a recognized or comparable qualification and the approval of the Federal Employment Agency. On a case-by-case basis, a professional license is also required and it is checked whether you will earn enough in the new job in Germany. The EU Blue Card facilitates permanent immigration for university graduates from non-EU countries. Job seekers have to prove that they can support themselves in order to receive a visa.
What sectors are looking for international specialists?
The Skilled Workers report published by the German Chamber of Commerce and Industry in November 2021 shows that Germany is in great need of qualified workers from abroad in many sectors. The greatest bottlenecks are in the construction industry, while industrial companies report the sharpest increase in staffing problems compared with 2020. Well over half of all companies that cannot fill positions are looking for people with dual vocational training. University graduates are particularly in demand in IT-related industries.
How important is knowledge of German?
Job seekers from so-called third countries require proof that their knowledge of German is at least B1 level of the European Framework of Reference to obtain a visa. Regardless of this, it is advisable for anyone interested in a job in Germany to learn the German language. If only because that makes it easier to get along and feel comfortable in the country. The Goethe-Institut offers a valuable service with various online exercises for communication in the job.
You would like to receive regular information about Germany? Subscribe here: