Diversity wins
Many companies have long recognized the advantages of diversity and therefore specifically promote it. Three examples.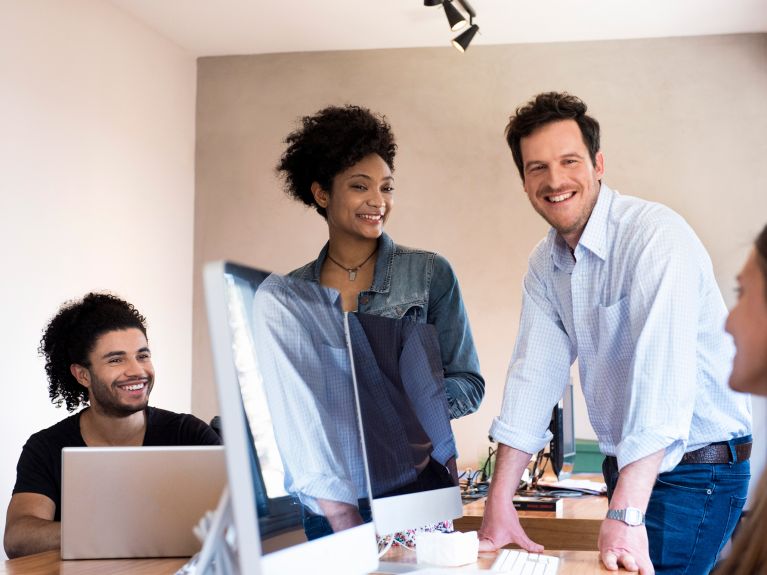 Diversity results in more entrepreneurial success: this is the finding of a 2020 international study by the management consultancy McKinsey, in which all companies in the German DAX share index and numerous German medium-sized companies were taken into account. Here three examples of how companies in Germany shape diversity.
Bringing about a change of perspective: the Insurance Company Group
Job starters with social media knowledge and new ideas meet experienced colleagues with farsightedness and a confident demeanour: both sides benefit. That is the basic idea behind the generation tandems of the Insurance Company Group, an association of 13 insurance companies. In addition, the group fosters a kind of "reverse mentoring", in which young people in training suggest new lines of thought to managers.
Strengthening networks: Adidas
Different strengths, interests and backgrounds move a company forward. Adidas therefore wants to promote diversity in a targeted manner and is strengthening employee initiatives such as the North American People of Colour network or the Women Networking Group, which supports young women in their professional development. In addition, there are training courses on gender, diversity and inclusion in which employees are made aware of these issues.
Hiring without prejudice: Deutsche Bahn
Everyone has unconscious prejudices. It helps to be clear about these, because they can negatively influence both your own work and the development opportunities of others. This is particularly important in the area of personnel, where application and selection processes should be as free as possible from "unconscious bias". Deutsche Bahn has therefore developed special workshops on the subject for its HR specialists and managers. The workshops treat the processes that go on in the brain when assessing people, the importance of group dynamics and specific example situations.
You would like to receive regular information about Germany? Subscribe here: