Showing consideration to each other
Diversity also means religious diversity. How German companies integrate different religions into their daily work.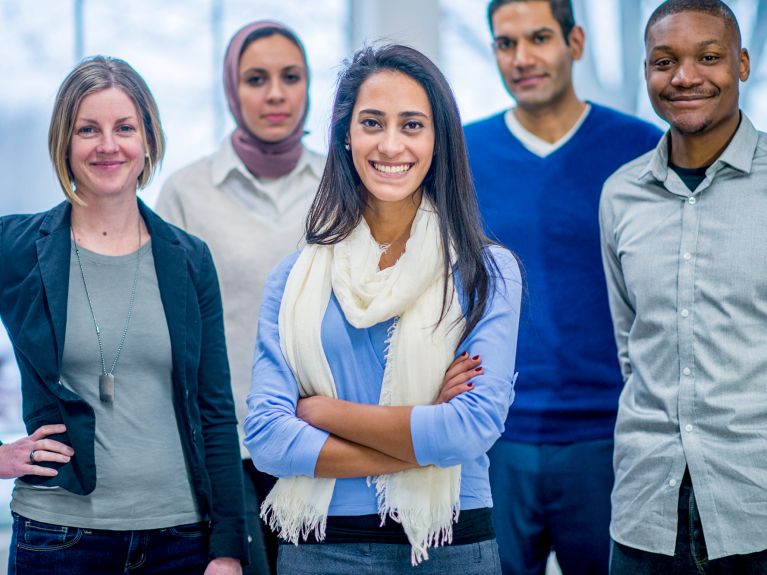 In Germany, the General Equal Treatment Act (AGG) prohibits discrimination on grounds of religious affiliation, including at the workplace. Companies have a duty to protect employees from discrimination. This often happens in the context of diversity management. For example, with an intercultural calendar, businesses can respond to workers' need to live their religions and celebrate holidays. The calendar shows at a glance the most important holidays of different religions.
Prayer rooms for believers
Fraport AG, which operates Frankfurt International Airport and is engaged in airports in many countries, uses an intercultural calendar. It is committed to a cosmopolitan and fair corporate culture. "We want to create a working environment in which our employees are valued and feel that they belong", says Gudrun Müller, Head of Diversity and Social Affairs at Fraport. "On our premises and in the passenger areas there are prayer rooms for believers of the different world religions. There, both passengers and employees can retreat for prayer."
In addition, the company organizes a common celebration for the Abrahamic religions and enables the daily breaking of fast during Ramadan.
At the home furnishing retailer Ikea, specially trained employees give anti-discrimination workshops in order to sensitize colleagues to the issue. The company has also set up a prayer room in its Berlin-Tempelhof shop, explains Kim Steuerwald of Corporate Communications at Ikea. "This room is open to anyone, no matter what religion or belief system the employee professes."
Religious food
In duty planning and in the canteen, companies can also show consideration of religious and cultural differences. Granting requests for free days for celebrations or pauses for prayer on special occasions is a sign of appreciation. This also applies to the offer of various dishes in the canteen; for instance, in addition to pork, meat such as chicken and turkey, or vegetarian food.
You would like to receive regular information about Germany? Subscribe here: