Promoting dual vocational training worldwide
Many countries are looking to the German model as an effective means of combating youth unemployment.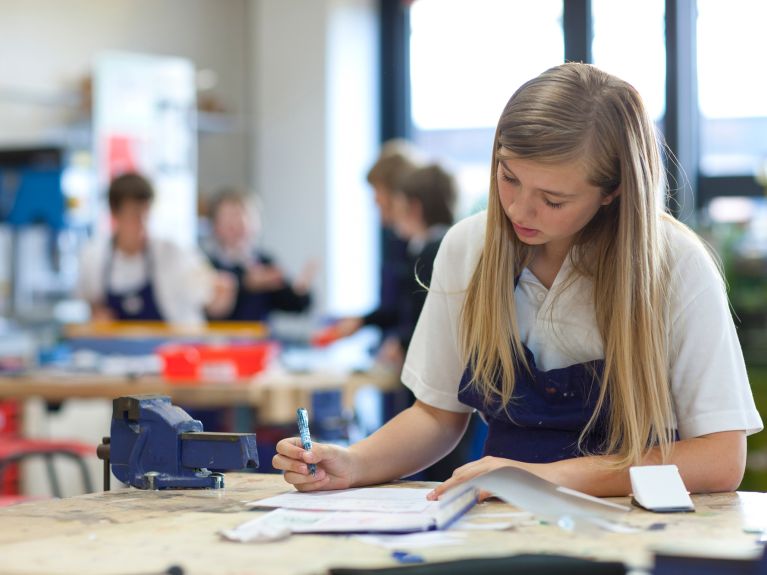 Vocational training "made in Germany" is a successful export. Germany is already collaborating with over 100 countries that have shown an interest in the concept.
Germany has been successful with its dual system of vocational education for many decades. Apprentices gain practical skills in the workplace while acquiring theoretical knowledge at a vocational school. Vocational training has proved its worth not only as a measure against youth unemployment, but also against skills shortages. As a result, it is regarded as a model for success, also internationally. The Federal Government presented a policy paper on the subject as early as 2013: Germany wants to make its expertise on the dual training system available to interested partner countries. German education experts can be consulted when dual vocational education systems are introduced there. 
Worldwide demand
International cooperation on vocational education is having many positive effects. Young people gain prospects in their home country and social peace is strengthened because well-trained specialists create competitive advantages that in turn enable more people to gain well-paid work.
Here we would like to give you an overview of places around the world where young people are benefiting from the system of dual vocational training.
 

Skills experts help at work
Bosnia and Herzegovina, Chile, Croatia, Ghana, Indonesia, Kenya, Nigeria, Northern Macedonia, South Africa, Vietnam: all these countries have 'skills experts' who, on the initiative of the Federal Ministry for Economic Affairs and Energy (BMWi), are supporting the creation of a dual system of vocational training, which combines theoretical instruction with practical training. Based at the foreign chambers of commerce, these skills experts bring together companies and vocational schools. Young Kenyans, for example, are being trained as skilled workers in the catering industry. And South Africa launched a logistics course in 2020.
German companies as drivers of the development
The idea of skills experts is one of many examples of how Germany promotes vocational training worldwide in accordance with the principles of the dual system – and the German Office for International Cooperation in Vocational Education and Training (GOVET) reports that there is a lot of interest in this system. German companies with branches in other countries are often the drivers of this development. They rely on well-trained skilled workers, like those produced by the dual system. But learning in a hands-on environment is only one element. In addition, there is close networking between social partners, business organizations and the state, nationwide quality standards on training content and teaching staff, as well as continuous evaluation.
What also makes dual vocational training attractive is its reputation as an effective way of combating youth unemployment. A comparative study published in mid-2020 by the Organisation for Economic Cooperation and Development (OECD) underlines the success of the German approach: the employment rate among 25-34-year-olds with intermediate qualifications in Germany is 88 percent, which is above the OECD average (82 percent). According to the study, the prospects for young people with a vocational qualification are better in Germany than in almost any other OECD country.
GOVET provides guidance worldwide
The Federal Government set up the German Office for International Cooperation in Vocational Education and Training (GOVET) in 2013 as the central point of contact for international collaboration in this field. GOVET offers interested parties abroad information on the dual vocational training system, as well as a project database on German vocational education projects worldwide and consulting and brokering services.
More information about German international vocational education projects
You would like to receive regular information about Germany? Subscribe here: