Human rights at the workplace
How German companies take on responsibility for human rights worldwide.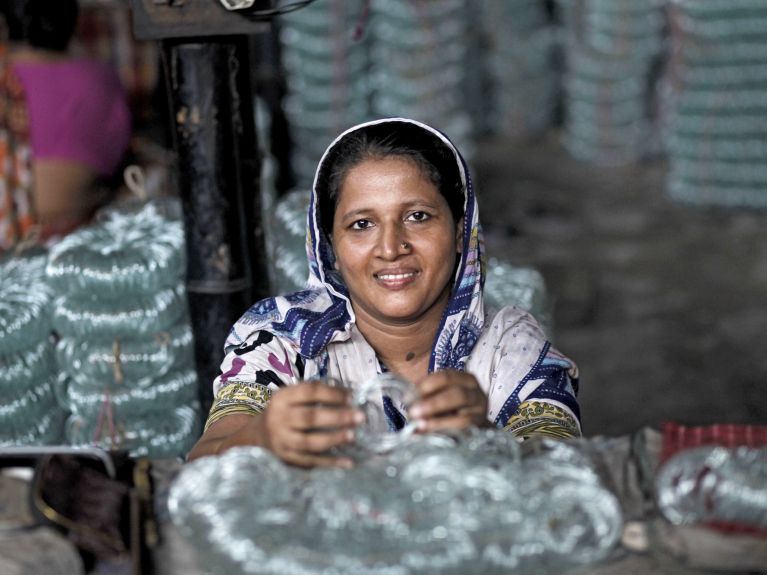 Germany. Whether people can lead a life in dignity and their fundamental rights are met depends largely on the conditions under which they work for their livelihood. Are they paid enough to feed their family? Are they protected against pollutants and other dangers, against violence and exploitation? Are there trade unions that assert workers' rights? Not only governments bear responsibility here, but also internationally active companies. The Federal Government adopted an action plan in December 2016.
What does the National Action Plan (NAP) on Business and Human Rights entail?
German companies are to respect human rights to undertake to comply with labour and social standards and practise their business operations in an environmentally sustainable manner – both at their locations in Germany and abroad, as well as along their supply and value chains. Germany has thus adopted the United Nations' Guiding Principles on Business and Human Rights. With the NAP, Germany is contributing worldwide to respecting human rights and giving globalization a social dimension in the sense of the Agenda 2030 for Sustainable Development. The NAP is part of the Federal Government's CSR policy.
Are there examples?
Yes. Numerous global players based in Germany, but also small and medium-sized businesses, have developed CSR standards. Exemplary projects are presented on the websites of Global Compact Network Germany and CSR Germany. Here are three examples:
 
Against child labour
The chemical and pharmaceutical company Merck runs a project in India against child labour in mica mining, a mineral used in the production of pigments. As a result of poverty, child labour is widespread in the mines. Merck now works only with suppliers that comply with labour and social standards and has put monitoring mechanisms in place. In addition, the company finances schools and a health centre, thus improving the living conditions of people in the mica mining areas.
For fair working conditions
Many articles sold by the retail company Tchibo are produced in factories in South-east Asia. The programme Worldwide Enhancement of Social Quality aims to help employees receive fair wages, benefit from improved industrial safety, and enjoy freedom of assembly. The company focuses on dialogue between all the parties involved. It has introduced a code of conduct and training programmes for suppliers, as well as participation opportunities for the workers.
Prospects for youth
Grohe AG, a manufacturer of sanitary fittings, is one of the companies that won the Federal Government's CSR Award in 2017. In its sustainability strategy, it is committed to the protection of water resources. In addition, it operates a project for street children in India. They are trained as plumbers at the Grohe Jal Academy in Mumbai. With this specialist knowledge, they make a contribution to hygiene and protecting drinking water – and can earn a living.