The Hydrogen Strategy
Carrying out the Energy Transformation with green hydrogen. Here you can find out what the Federal Government is planning.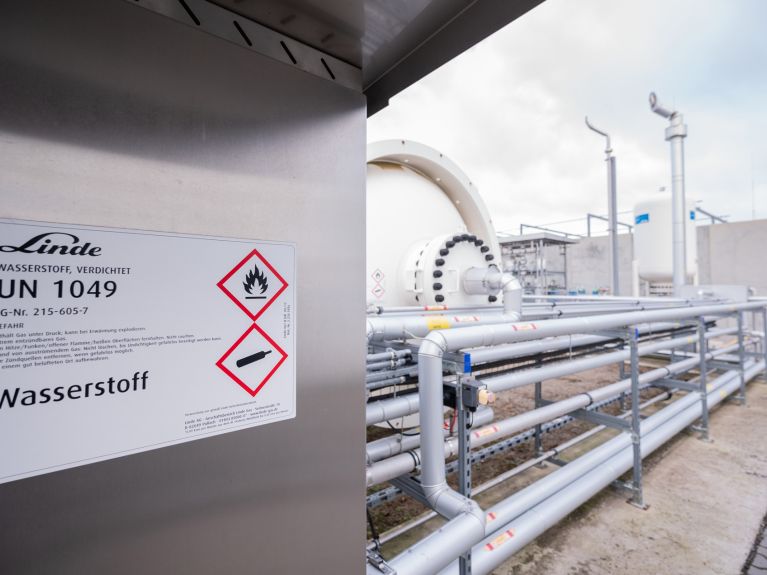 Germany is regarded worldwide as a pioneer in the conversion to renewable energies. A decisive boost for the 'Energy Transformation' came from the 2011 nuclear disaster in Fukushima, after which Germany decided to phase out nuclear power. In 2020, Germany's Federal Government also agreed to phase out coal. Alternatives had to be found to replace these two important energy sources in the medium term. For this reason, the Federal Cabinet adopted the National Hydrogen Strategy (NWS) in June 2020. The aim is to carry out the Energy Transformation with this technology.
The focus is on 'green' hydrogen produced with renewable energy. This makes it possible to maintain competitiveness in industry and transport, achieve climate-change-mitigation targets and open up new markets. An important goal is therefore to make green hydrogen competitive. At the moment, it's far from being that, mainly because the conversion of green electricity into hydrogen is not yet very efficient – and this is reflected in the price. One kilogram, produced from wind or solar power, is four to five times more expensive than so-called grey hydrogen, which is produced from natural gas but is not climate neutral.
Competition for international cooperation
This poses another challenge: if we want to use green hydrogen on a large scale, the demand for renewable energy will also increase enormously. For this reason, Germany aims to build new generation plants with a total capacity of up to five gigawatts by 2030. However, since this alone will probably not cover demand, the country will have to rely on imports from countries where there is plenty of (sea) water and sunshine. A particular focus here lies on the African continent. Together with Morocco, Germany is planning the first industrial plant for green hydrogen in Africa.
In order to increase the dynamics in the field of hydrogen technology, at the beginning of February 2021 the Federal Ministry of Education and Research announced a competition for the establishment of international research projects. Starting in December 2021, international teams of scientists are to conduct research in so-called 'future laboratories' at German universities and institutes on fundamental topics along the entire hydrogen value chain: from production to refining and transport to use.
You would like to receive regular information about Germany? Subscribe here: