Seed capital for new businesses
It's always hard at first, especially in financial terms. Germany offers many funding opportunities, however.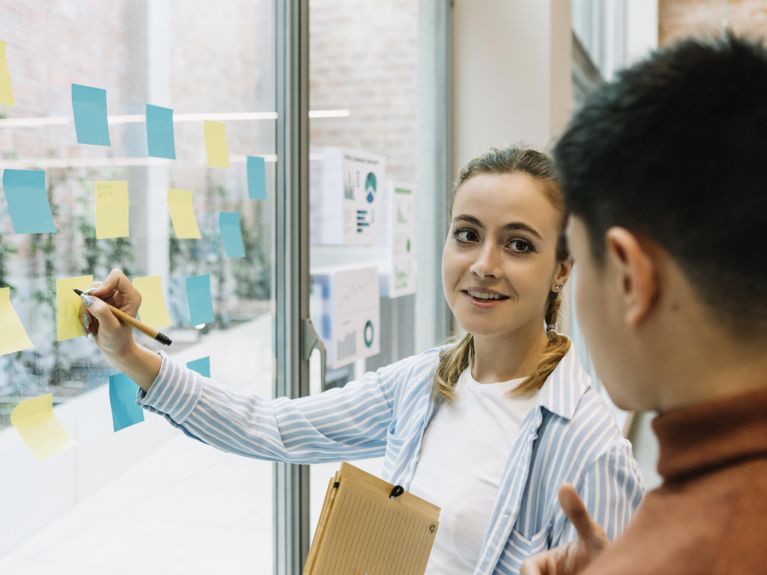 Exist business startup grant
This funding programme is run by Germany'sFederal Ministry for Economic Affairs and Climate Action. Funding is provided for innovative technology-oriented startup projects and for services based on scientific findings. The grant covers personal living expenses for one year, materials and equipment, and coaching. Since the programme is targeted at researchers, university graduates and students, the respective higher education institution or non-university research institute submits the application. The chances of receiving funding are good: Between 2007 and 2021, more than half of the 4,906 applications submitted during this period were approved. More information about the grant can be found here.
Exist transfer of research
The Exist transfer of research programme has a rather different focus: It supports outstanding research-oriented projects that involve expensive and high-risk resource development. It comprises two funding phases: In the first phase, the entrepreneurs further develop the results of their research, while in the second they prepare the practical business operations and external funding. Funding is provided for research teams at universities or non-university research institutions for a period of up to 18 months. The chances of receiving funding here are even better: More than two thirds of the 660 applications submitted between 2007 and 2021 were accepted. More information about the programme can be found here. 
Ideas for the future
These are the technologies where start-ups currently see the greatest potential
23.8 %

:

Artificial intelligence

18.3 %

:

Industry 4.0

16.9 %

:

Internet of Things (Smart Home, Wearables)

8.5 %

:

Web 3.0
High-Tech Gründerfonds
For startups with ambitious growth plans, venture capital is a key source of funding. Such investments are made by the High-Tech Gründerfonds (HTGF), which was founded in 2005. It is Germany's largest provider of capital for companies in the early phase of development and invests in startups that are not more than three years old. It focuses on innovative high-tech startups in all sectors. 
Startup grants from Germany's federal states
Other funding opportunities when it comes to turning innovations into marketable products come in the form of the startup grants available from Germany's federal states. According to the German Startup Monitor, North Rhine-Westphalia is home to the most startups, namely nearly 20 percent. That said, Berlin boasts the highest funding volume for startups, according to the EY Startup Barometer 2022: It reveals that half of all euros invested in the software and analytics sector are channelled into a Berlin startup. At the same time, the capital's startups have a 94 percent share of the finance and insurance technology market. 
Would you like to receive regular updates about Germany? Sign up here: