Competitive advantages in the digital economy
The sociologist Sabine Pfeiffer believes German industry is well placed to benefit from the digitalisation of the world of work.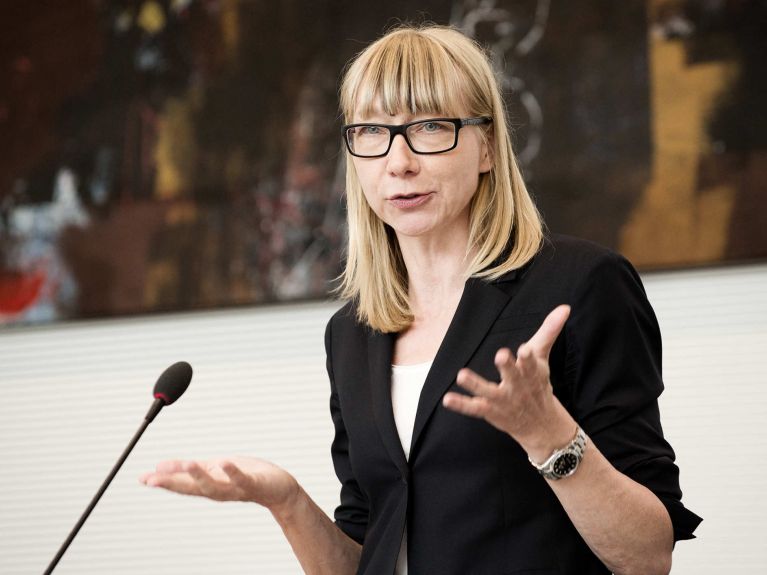 Digitalisation is gathering pace in the world of work, and artificial intelligence is driving the trend even more. The sociologist Sabine Pfeiffer from the University of Erlangen-Nürnberg has spent years working on the digital transformation and even advises the Federal Ministry for Labour. 
Professor Pfeiffer, what are the trends in digitalisation in industry?
If we're talking about trends in German industry, it makes a big difference whether we're talking about a large carmaker, the chemicals industry or an SME which has achieved success as a global player. These sectors are developing in quite different ways, which can be a problem in the debate around digitalisation, as that is often generalising in nature. In many areas of industry, we see that digitalisation always used to come across as a tool for work. From computerised CNC milling machines to industrial robots, the first thing you think of is tools. Nowadays, the transformative is happening where digitalisation is coming into products and what it changes when it gets there. That brings us to the question of how these two things come together and which business models can be connected to them. 
As digitalisation advances, many people are worried about their jobs. Are jobs being digitalised away?
More than anything else the many innovations, conversion processes and adaptations required by digitalisation and the environmental transition need one thing: more human workers. You can't just unbox the latest products of digitalisation, such as AI, robots or augmented reality glasses and they start working. They only make a positive impact when they are made suitable for your own business model, markets or products. That means a lot of work has to go into it. Something we forget all too easily when discussing the digital transformation is that it won't just fall into our laps: we need to make it happen. 
How well placed is German industry compared to the rest of the world?
The accusation that German industry is lagging behind is as false as it is widespread. I see it differently. Manufacturing industry has a particular competitive advantage, even in the digital economy: it has specific data, which not every economy has. You just need to make the right use of it. In addition, you shouldn't underestimate your own strengths, i.e. your employees and their knowledge of manufacturing. The majority of our people employed in manufacturing have excellent qualifications and skills. We have the people with the right skills to employ artificial intelligence in a really worthwhile way and to use it in an economically worthwhile way in the long term. That's a real competitive advantage.