Destination Germany
Would you like to travel to Germany as a tourist? Here you'll find all the important information you need for an unforgettable stay.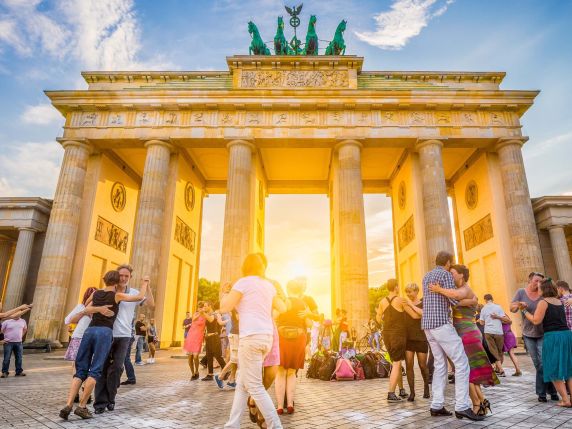 Whether you love nature or history, mountains or the sea, Germany has something to offer for everyone. From majestic castles set amid picturesque landscapes to the lively streets of Berlin, there are countless hidden treasures to discover in the country. Here you will find valuable information about popular destinations, cultural highlights, local traditions and delicious dishes along with practical travel tips. Get ready for a journey through Germany to explore fascinating cities, breathtaking mountain landscapes and intriguing UNESCO World Heritage Sites.
What are the requirements for tourists entering Germany?
Tourists from EU countries in the Schengen area and from many other countries can enter without any further formalities. All other travellers need a tourist visa for a 90-day stay: the type C Schengen visa. Check this list issued by the German Foreign Ministry Auswärtiges Amt to find out if you need a visa:
https://www.auswaertiges-amt.de/en/visa-service/-/231148
You can obtain a visa from the German embassy or consulate in your country. It will also provide you with details of any requirements that apply.
How can I get about in the country?
How can I travel in Germany?
Germany is well-known for its motorways. They criss-cross the country in all directions. With the exception of a few islands, you can get to virtually every point of interest in Germany by car. Travelling by train in Germany is very convenient, too: the local and long-distance public transport network has trains and buses that serve virtually the entire country. The major cities and their surrounding areas in particular offer excellent transportation links. One convenient option for travel between larger towns and cities is that of the long-distance buses. There is also domestic air traffic – though given that Germany is not overly extensive in size, more ecofriendly forms of travel are available.
Here you will find tips for travelling in Germany:
Bonus tip: how can I travel in Germany on a limited budget?
Travelling costs money, and even though there are a lot of countries that are more expensive than Germany, it is certainly not one of the cheapest holiday destinations. The longer you want to spend exploring Germany, the more this applies, of course: travel, accommodation, food and drink are necessary expenses. One option is to earn the cost of your trip in Germany itself while you are there.
Find out all about work and travel in Germany:
What do I need to know before the trip?
What are the most important things I need to know when travelling to Germany?
Germany is made up of 16 federal states, but this won't affect you in terms of tourist travel. There are no noticeable borders between the states and the same laws apply everywhere throughout the country. Germany has a nationwide system of healthcare consisting of general practitioners and hospitals. In order to keep costs low in the event of illness or accident, tourists are advised to take out travel health insurance for the duration of their visit to Germany. All common means of payment are accepted in Germany, though paying with cash is still widespread, especially in the case of small amounts. Food in Germany is international: Italian, Turkish and Asian cuisine is to be found practically everywhere. German cuisine with all its specialities is an option too, of course.
What can I eat and drink when I visit Germany?
The restaurant landscape in Germany is practically unlimited and highly diverse. In big cities in particular it is possible to find almost every type of international cuisine, often in gourmet quality, too. Virtually every town in Germany has a pizzeria, a kebab restaurant or a Chinese restaurant serving good food that is reasonably priced. But tourists will want to try the country's own typical dishes and drinks, too. Some dishes require a little tolerance, unlike perhaps the most common German drinks such as beer and wine. When it comes to beer and wine, it's always a good idea to try regional specialities.
The most attractive towns and cities
What places should I visit in Germany?
There are hundreds of worthwhile destinations in Germany. Here you will find the most popular places for tourists from abroad to visit in Germany:
Everything you need to know about the most attractive German towns and cities
But this is only a small selection of course. You might be asking yourself: where do I start my trip to Germany? What are the most frequently visited towns and cities in Germany? Maybe you'd like to get to know the big German cities? Hamburg, the port city on the North Sea, Berlin, the German capital, Leipzig, the cultural centre in the east, or Cologne, the city with the famous cathedral? Frankfurt, the city of banks and museums? Or Munich, home to the Oktoberfest, situated on the edge of the Alps? Each of these cities has a long and fascinating history, even dating back to Roman times in some cases.
Our bonus tip: "Berlin for free"
You don't necessarily have to spend a lot of money if you want to visit Germany. Here we have compiled a special set of tips for those who'd like to get to know Berlin (almost) for free:
Everything you need to know for a trip to the countryside in Germany
Germany has a rich variety of landscapes: the islands in the North Sea and Baltic Sea, extensive plains in the north rising to the lower mountain ranges, and then Germany's highest point in the far south – the Zugspitze in the picturesque Alps. In all these regions you will find unique and stunning landscapes, romantic river valleys, majestic mountains such as the Brocken in the Harz Mountains or the Feldberg in the legendary Black Forest – and there are even enchanted primeval forests, too.
The different landscapes provide habitats for numerous different animal species. If you are interested in wild animals, this is the right place for you:
Everything you need to know about cultural and historical highlights on your trip to Germany
No one can visit the land of Goethe, Bach and Beethoven without at least encountering in some form the mark left by these and other great artists – or indeed hearing their works. Germany is the country with the most symphony orchestras and opera houses. The Berlin Philharmonic is considered one of the best orchestras in the world, and more than a third of the world's opera performances take place in Germany. In Berlin alone there are three opera houses, the Semperoper in Dresden is world-famous, too, and then of course there is the Festspielhaus in Bayreuth, where only works by Richard Wagner are performed. Popular music has an equally important role to play: with festivals such as "Rock am Ring" at the Nürburgring motor racing track and concerts ranging from local bands to international superstars, there is something on offer to suit every taste.
Great art treasures in impressive museums
In Germany, cultural education is seen as a responsibility of the public sector, which is why many museums receive funding from the state. This is another reason why the country has countless museums that many millions of people visit every year. Berlin has an entire museum island – a must-see on any visit to the capital. The Alte Pinakothek in Munich, the Städel Museum in Frankfurt, Museum Ludwig and the Wallraff-Richartz Museum in Cologne, the Staatsgalerie in Stuttgart and the Gemäldegalerie Alte Meister in Dresden – the list of outstanding exhibition venues is virtually endless. The advantage from your point of view when travelling to Germany: it's usually not far to go to the nearest major museum.
Spectacular presentations of history and technology
Museums are not only dedicated to the fine arts, of course. The largest technology museum of its kind in the world is in Munich: the Deutsches Museum. 1.5 million people visit it every year. Another spectacular place to see is the Sinsheim Museum of Technology, where a real Concorde is on display – still the fastest passenger aircraft ever. Anyone visiting Frankfurt am Main who is interested in natural history should be sure not to miss the Senckenberg Museum.
German history is featured in numerous museums, with both its dark and bright sides. The largest German-language cultural history museum is the Germanisches Nationalmuseum in Nuremberg. Meanwhile, the Buchenwald memorial on the site of a former concentration camp near the Goethe and Schiller city of Weimar is dedicated to the crimes perpetrated under National Socialism.
Where can I immerse myself in German history up close?
Finding out about history in a museum is fascinating, but here are some tips for you if you want to really immerse yourself in the past. Open-air museums bring bygone times back to life, ancient walls give you history at first hand and historical festivals offer a glimpse of what life must have felt like in past eras.
Unique destinations in Germany: UNESCO World Heritage Sites
The United Nations awards a distinctive seal of quality to particularly outstanding natural or cultural monuments. They are declared by UNESCO to be World Heritage Sites. Here you can find out which of these places you should definitely not miss in Germany:
Are you a nature-lover wanting to get a feel for the great outdoors in Germany?
It is possible to explore cities and landscapes on foot. Those wishing to cover lengthier distances in the countryside may prefer to travel by bicycle. Germany offers numerous opportunities for this, too:
Where can I stay the night?
Where can I stay on my trip to Germany?
Germany has hotels in all price categories, ranging from exclusive luxury hotels to budget hostels. You will find accommodation in all price categories via the usual channels on the internet, too. One particular feature in Germany is the concept of the youth hostel: nowadays these can be used by people of all ages, including families. The accommodation they provide is usually quite basic, but inexpensive. Since Germans like to camp, Germany has lots of campsites as well. Motorhome travellers take note: you are allowed to stay for a single night anywhere where it is not expressly forbidden. But one night is the maximum.
Germany from a distinctive perspective
Are you looking for what is typical of Germany or what is not so typical?
If it's winter and you want to experience something typically German: go to a Christmas market! If you like whimsical things, such as cuckoo clocks: set off on the German Clock Road. Here you will find some distinctive ways to explore Germany – not always off the beaten track, but highly recommended:
Germany from a digital perspective
Bonus tip: I want to visit Germany without travelling!
Want to visit Germany but without travelling? We can help you with that. We've put together some great destinations for you to explore digitally. You might like to start with a virtual tour of some of the most impressive spots:
Frankfurt's New Old Town is a spectacular sight, shown here in 360-degree video:
But there are lots of other ways to explore Germany on the internet without setting foot in the country. Try our tips for a virtual visit to Germany: