Munich: A cosmopolitan city with an alpine panorama
A visit to the Bavarian capital is worthwhile not just during the Oktoberfest, but at all times of the year.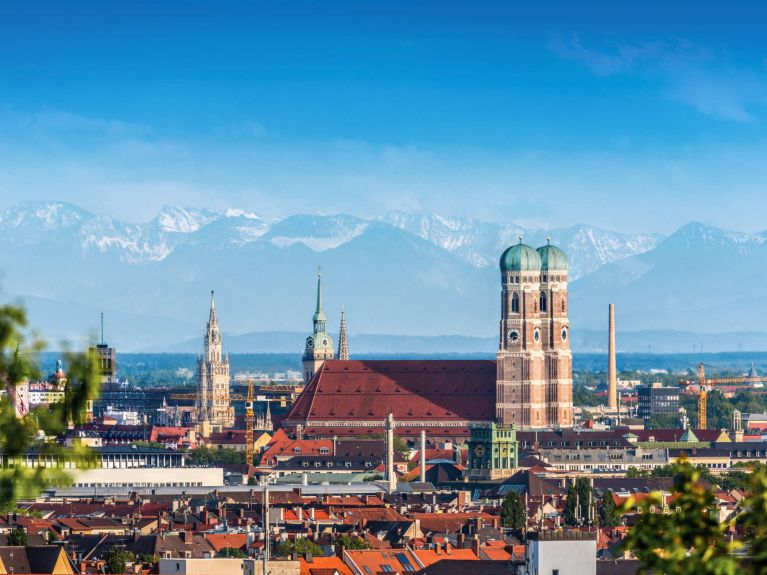 Munich is one of the most popular destinations in Germany. Explore the capital of Bavaria with us: the sights from Marienplatz to the English Garden, and from the Pinakothek museums to the Deutsches Museum, but also the typical beer gardens and the world-famous Oktoberfest.
What is Munich famous for? 
The city's location in the south of Germany is something that already gives it a distinctive flair: on many days the panorama of the Alps can be seen from Munich. The twin towers of the Frauenkirche are considered the city's landmark. In a referendum held in 2004, it was even decided that no building was to be higher than this cathedral, which measures 98.57 metres. Close by is Marienplatz, the world-famous square in front of the New and Old Town Halls. It is here on the town hall balcony that the footballers of record German championship-holders FC Bayern Munich celebrate their triumphs. 
Very popular with locals and visitors alike is the English Garden, one of the largest inner-city parks in the world. One particular feature there is the Eisbach wave, a surf spot that attracts enthusiasts at all times of the year.  
Can I explore Munich on foot? 
Munich may be a city of millions, but the centre is easy to explore on foot. Starting from Marienplatz, you can not only take in sights such as the Frauenkirche in the immediate vicinity, but also stroll and shop through the pedestrian zone, enjoy a bite to eat at Viktualienmarkt or drink a litre or "Maß" of https://www.deutschland.de/en/topic/life/germanys-most-popular-beersbeerhttps://www.deutschland.de/en/topic/life/germanys-most-popular-beers at the Hofbräuhaus.  
Which museums are worth a visit? 
Munich has a highly diverse museum landscape. The most famous are probably the Alte and Neue Pinakothek and the collection of modern art in the Pinakothek der Moderne. Another attraction is the Deutsches Museum, which brings science and technology to life. 
When does the Oktoberfest take place in Munich? 
Although it is called Oktoberfest, the world's biggest fun fair actually always begins in September – on the Saturday after 15 September. It usually ends on the first Sunday in October. Anyone not travelling to Munich at this time can enjoy the Bavarian way of life all year round in the numerous beer gardens and brewhouses. 
See here for detailed information for a trip to Munich: https://www.muenchen.travel/