Magical Christmas markets
Germany's cities are filled with the glitter and aromas of Christmas. Six popular Christmas markets and their specialities.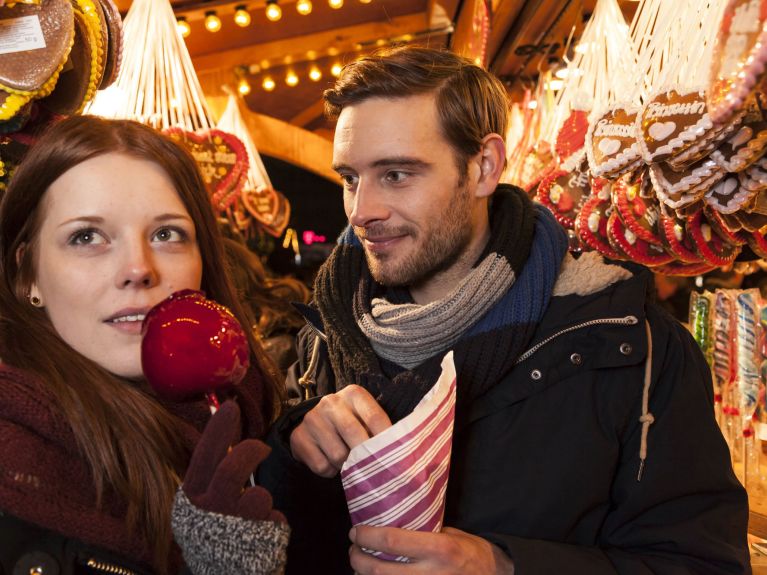 Nürnberger Christkindlesmarkt
Germany's largest and most famous Christmas market attracts more than two million visitors and tourists from around the world each year. Nestled between the historical buildings of Nuremberg's old town, a little city within a city emerges for four weeks of the year: 180 wooden stalls with red-and-white striped roofs are arranged in rows, traders offer delicacies and hand-crafted wares. If they are lucky, visitors can even meet the Christkind. A girl from Nuremberg is traditionally elected for two years to represent the Christkindlesmarkt.
Must try: Nuremberg gingerbread, Nuremberg bratwurst
Souvenirs: prune people dollies, tinsel angels
Nürnberger Christkindlesmarkt 30 November until 24 December 2018
Striezelmarkt Dresden
The Striezelmarkt in the baroque city of Dresden dates back to 1434 and is one of the oldest Christmas markets in Germany. Striezel is another name for Stollen, the classic Christmas cake from Dresden. At the Stollen Festival on 9 December bakers from Dresden bake a huge stollen weighing almost four tonnes.
Worth seeing: 14 metres high, the world's tallest Christmas pyramid from the Ore Mountains
Must try: Dresdener Christstollen, Baumkuchen
Souvenirs: carved handicrafts from the Ore Mountains, such as Christmas pyramids, nutcrackers and incense burners
Striezelmarkt Dresden 28 November until 24 December 2018
Münchner Christkindlmarkt
Munich's central square is Marienplatz in front of the town hall. In the festive season it is transformed into an enchanting Christmas landscape. A 24-metre Christmas tree shines out amidst 160 market stalls.
Must try: Kletznbrot, a fruit bread made with dried fruits
Worth seeing: Kripperlmarkt in front of St Michael's Church, Germany's largest market for skilfully carved Christmas crib figures
Münchner Christkindlmarkt 27 November until 24 December 2018
Frankfurt Christmas Market
This is where the major banking city demonstrates its romantic aspect. A stroll round the Christmas market during the Great Pealing of the Bells on the Saturday before the first Sunday of Advent is unforgettable: at dusk 50 bells from ten different churches ring out in succession and then together.
Frankfurt Christmas Market 26 November until 22 December 2018
Lübeck Christmas Market
The old town of the Hanseatic city on the Baltic coast is a UNESCO world heritage site. The impressive Brick Gothic town hall forms a stunning backdrop for the Christmas market.
Must try: Lübeck marzipan, hot rum
Worth seeing: Maritime Christmas Market in Koberg, the historical mariners' district
Lübeck Christmas Market 26 November until 30 December 2017
Erfurt Christmas Market
The Christmas market in the state capital of Thuringia is considered one of the most beautiful ones in Germany. It stretches from Erfurt's impressive cathedral to the unique half-timbered buildings surrounding the Krämerbrücke bridge.
Must try: Thuringian bratwurst, Erfurter Schittchen (stollen)
Worth seeing: nativity scene with 14 life-size wooden figures
Souvenirs: Thuringian handicrafts, such as hand-blown glass baubles for Christmas
Erfurt Christmas Market 27 November until 22 December 2018