Christmas treats from Germany
Baumkuchen, marzipan, gingerbread and stollen are traditional Christmas treats from Germany.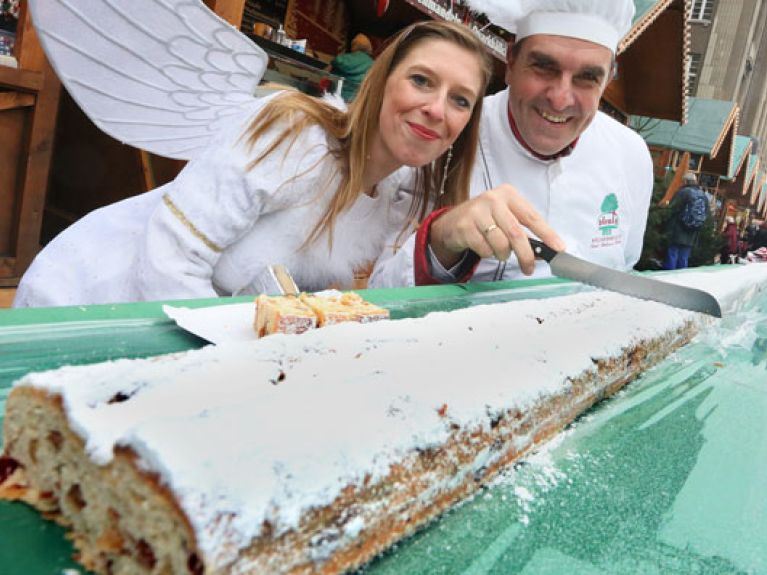 When it's frosty outside, Christmas markets begin attracting visitors and Advent greetings start coming through the letter box, the time of the confectioners has arrived in Germany. Anyway, that is what you might think. However, the craftspeople have to start work long before the holiday season in order to get the traditional treats into shops and living rooms. This is particularly true when their products have to travel a long way: Baumkuchen, for example, has become popular in many places around the world, as staff at Konditorei Buchwald in Berlin will confirm.
This confectioner's shop has been doing business for over 160 years. Founded in Cottbus, it soon moved to Berlin, because the city already had gas, whose fire made it possible to produce especially good Baumkuchen. The shop even supplied the "King of Cakes", this layered pastry produced on a spit and coated with chocolate, to the Prussian court. Today, the customers of the former purveyor to kings include not only Berlin celebrities, but also people in many different countries around the world. They receive their cake in good time for Christmas by post.
Marzipan from Germany has also long enjoyed a worldwide reputation and is inseparably linked with the City of Lübeck and the name Niederegger. In1806, Johann Georg Niederegger, a young man from southern Germany, took over a confectioner's shop in the Hanseatic city and developed it into a successful business. Boxes of marzipan with the initials J.G.N. travelled to the court of the Russian tsar. Today the business itself has become a tourist attraction – Café Niederegger and the adjacent museum are popular with visitors.
Marzipan, this fine mass of almonds and sugar, was not discovered in Germany, but in the Orient hundreds of years before Niederegger was born. Another popular Christmas speciality in Germany also clearly has its origins outside Europe: a kind of gingerbread – a spicy, sweet cake – is said to have already existed in ancient Egypt. Christstollen or stollen, which was originally a fasting cake in monasteries, probably has the longest tradition of all the seasonal treats in Germany. It was therefore certainly not always as rich as it is today – with lots of butter and dried fruit.