How Germany celebrates Christmas
A Christmas visit to Germans:  which rituals are important and why potato salad is part of the festivities.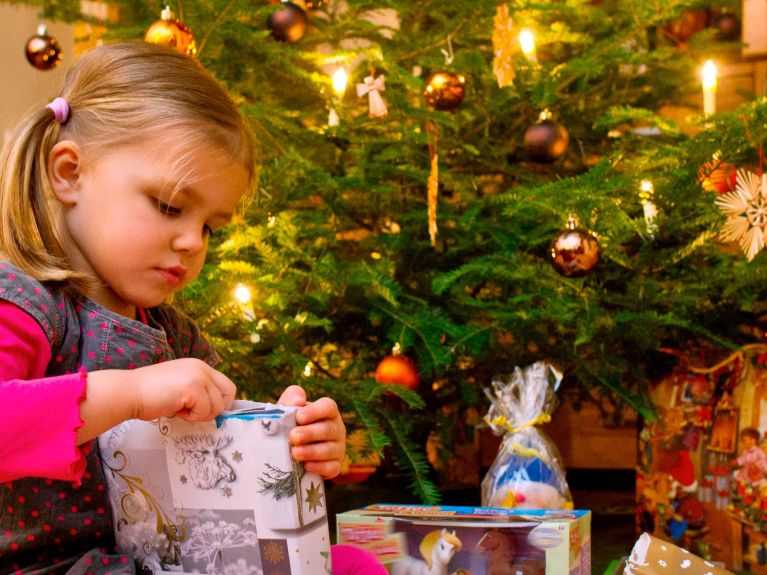 Germany. The first taste of Christmas arrives when Lebkuchen (gingerbread) and Spekulatius (gingery biscuits) suddenly appear on the supermarket shelves at the beginning of September. From the first Sunday in Advent onwards, Christmas markets, Christmas hits on the radio and Christmas lights spread the Christmas spirit throughout the land.
Do only religious Germans celebrate Christmas?
No. Although it is the Christian festival commemorating the birth of Jesus Christ, Christmas is also celebrated by Germans who do not profess any faith – by 78% in all. Celebrating Christmas is an important family tradition for most people. Roughly one in four Germans go to church at Christmas. Attending the Christmas service at midnight on Christmas Eve is a ritual that many would not like to miss.
What are Christmas traditions in Germany?
According to a survey by the Yougov market research institute, most people said Christmas involves candles, a Christmas tree, baking Christmas biscuits and buying presents. In 2020, almost 25 million Christmas trees stood in German living rooms – preferably real ones, because plastic imitations are frowned upon.
What happens in the course of a typical German Christmas?
Germany celebrates Christmas with two public holidays, 25 and 26 December. For many people, 24 December, Christmas Eve, is divided into a hectic morning and a festive evening. When Christmas Eve falls on a working day, the shops are open until noon and they are very busy as people buy their last presents or food for the festive meal. Afterwards attention focuses on decorating the Christmas tree with fairy lights and colourful baubles, wrapping up presents and preparing food.
In the early evening the members of the family gather. Some cultivate traditions like singing and making music together. The evening meal is followed by the distribution of presents: this is when everyone is allowed to unwrap the parcels lying under the Christmas tree. Finally, weeks after writing wish lists to the Christ Child, children expectantly wait to see whether their wishes have been fulfilled.
Young people who have returned to their home towns for the holidays often set off again late at night to meet up with old friends. 
Why do Germans eat potato salad on Christmas Eve?
According to the old Christian tradition, the period from St Martin's Day on 11 November until 24 December was a time of fasting. That is why a simple dish is served – for example, carp, because fish is the symbolic fasting meal. However, the most popular dish throughout the country is potato salad with sausages; according to a 2021 survey, that is what 34% of the Germans eat on Christmas Eve. On Christmas Day and the day after, which are both public holidays, people enjoy a lavish feast on a festively decorated table. The traditional Christmas meal is roast goose with potato dumplings and red cabbage.