Christmas classic: gingerbread
Christmas is the time for baking, and gingerbread is a speciality.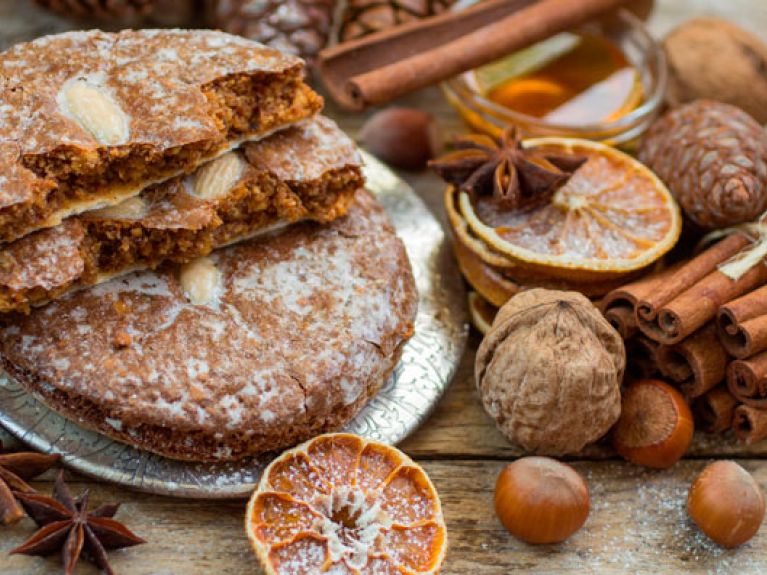 It is a very old Christian custom that sweet biscuits and cakes are an integral part of a traditional Christmas in Germany. As early as the 15th and 16th century, blessed bread was distributed to the faithful at the end of mass. Because they bore a Christian stamp, pastries from Aachen were given the name 'Printen', a term derived from the English 'print' or the Dutch 'prent'. The recipes became more refined from the early 19th century onwards, even though they were still more reminiscent of wholefood pastries. The biscuits were then gradually refined in monasteries – the monks were familiar with sweet pastries from the Orient and Italy and had the necessary spices. Since 1820, the name 'Aachener Printen' designates a certain type of gingerbread. It was given as a present not only at Christmas, but also at Easter, weddings or baptisms.
In Nuremberg, too, whose 'Nuremberg gingerbread' is world-famous today, the bakers developed highly sophisticated recipes to refine the dough. They baked sweet, spiced cakes on wafers, using ingredients they found virtually on their doorstep in Nuremberg, a free imperial town at the centre of European spice trade routes. Furthermore, the city was surrounded by huge forests, and there was a lot of bee-keeping. Because there was a plentiful supply of spices and honey from which a whole new form of pastry emerged, a completely new profession developed: that of the gingerbread baker. Experienced gingerbread bakers allowed drums of flour, honey and leavening agent to mature for years until the dough could be made into gingerbread. This ancient craft disappeared when industrially manufactured gingerbread came onto the market.
Cake without flour
Today, gingerbread is sometimes also called 'pepper cake', because it contains pepper along with numerous other spices. In addition to honey as the sweetener, and oriental spices like cinnamon, cloves, aniseed, cardamom, coriander, ginger and nutmeg, another typical feature of gingerbread is the fact that it is baked without yeast. Instead, ammonium bicarbonate or potash is used, giving the dough a bitter taste. Today there is a wide variety of different types of gingerbread: with or without wafers; made of honey cake or nut dough; with almonds, hazelnuts or walnuts; with or without icing and trimmings. The most famous kind is Elisen gingerbread: it consists only of nuts, eggs, honey and spices. And there is one ingredient that Elisen gingerbread certainly does not contain: flour.