Christmas classic: Spekulatius
Christmas is the time for baking, and Spekulatius biscuits are a real temptation.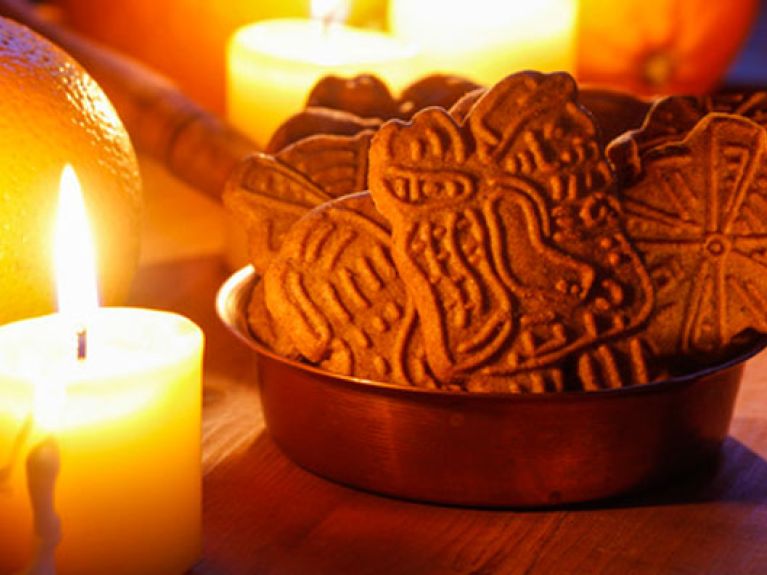 Clove, cardamom, cinnamon, nutmeg: oriental spices give the Spekulatius its typical aroma. For many people, this spicy biscuit is as much a part of Christmas as Christmas trees and tinsel. And many find it hard to stop themselves buying them in the autumn when they first appear on the supermarket shelves. In fact these biscuits are eaten all year long in Belgium and the Netherlands, where they were invented. They are even popular among the inhabitants of Indonesia, a former Dutch colony.
Because of the many exotic spices needed to make it, Spekulatius was an expensive luxury that most people couldn't afford until after the Second World War. Today, Spekulatius biscuits are commonplace. In Germany, they come mostly from Westphalia and the Rhineland. When placed in a row next to each other in the correct order, the Spekulatius images tell the story of St. Nicholas.
Biscuits with motifs
The German tradition of biscuits and sweet pastries can be traced back to a very old Christian custom. As early as the 15th and 16th century, blessed bread was distributed to the faithful at the end of mass. The name of the Spekulatius biscuits comes from the Latin 'Specculum', or mirror. In early December, many homes in Germany are transformed into veritable biscuit bakeries. Usually, several different kinds of biscuits are baked, kept in tins, and eaten or given away on the Sundays of Advent.
Baking Spekulatius is not especially difficult: butter, sugar and spices are stirred together to make a creamy mix. Almond extract, milk and flour mixed with baking powder are added. After three hours in the refrigerator, various motifs are cut out of the flat, rolled-out dough. Because the dough hardly rises during baking, it is well suited for making cookies using pastry cutters or moulds with special motifs. The motifs are clearly recognizable after baking.