Expats experience the Advent season
How do German Christmas newbies feel? Expats talk about their experiences.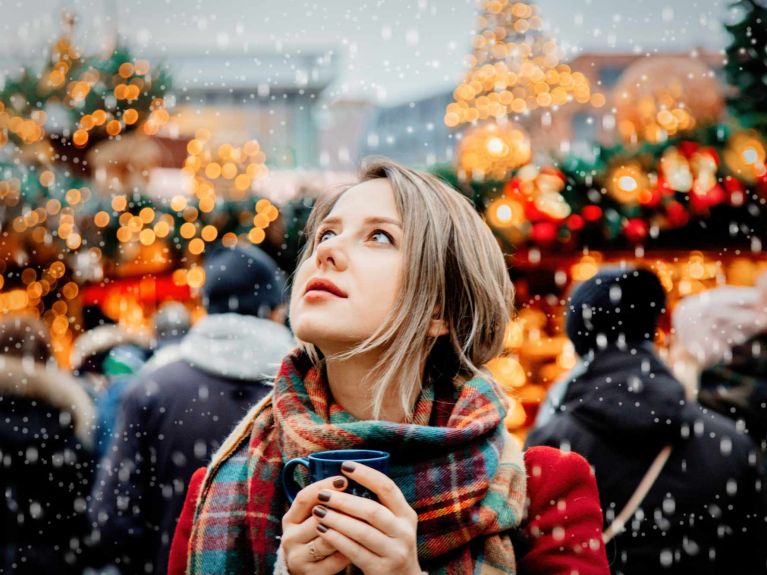 Christmas in Germany is first and foremost a family celebration. For many people, however, visiting a Christmas market is an essential part of preparing for the festival itself. It is above all Germany's numerous Christmas markets that are best known abroad, almost every town and city staging one during the Advent season. The Striezelmarkt in Dresden and Nuremberg's Christkindlesmarkt are particularly popular. Expats take us along with them to a Christmas market and reveal what makes them special.
Riya is from northern India and came to Germany to study biomedical technology in 2018, so she hasn't experienced many Christmases here yet. In India she would celebrate with her family on 25 December, go to church and have cake. She was therefore surprised by Advent in Germany: "When I came to Germany I thought it was great that people spent an entire month celebrating Christmas." Riya likes the festive atmosphere and decorated streets. Her must-haves when visiting a Christmas market are Glühwein (mulled wine), Reibekuchen (potato fritters) and Lebkuchen (gingerbread).
Monalisha already came to Germany from India a number of years back to work as a software developer. She is now a self-employed content creator and provides information to expats about Germany. She also likes the fact that Christmas can be enjoyed throughout December, saying that the streets smell of Christmas and there is glitter everywhere. Monalisha also enjoys visiting the "magical Christmas markets". What is her favourite thing there? Glühwein, which is hot wine flavoured with sugar, orange and many other Christmas spices.
Manuel from Argentina does not drink alcohol but can recommend the Kinderpunsch (children's punch) – the recipe is the same as for Glühwein, but apple juice is used instead of wine. "I can take the mug from the Christmas market home with me, because you pay a deposit for it," he explains. And indeed many visitors collect their Glühwein mugs rather than returning them to get the few euros in deposit back. Manuel, who has made Berlin his home, also looks forward to numerous highlights like big wheels and ice rinks. What might surprise Christmas market newbies is the stalls: "They are like little cabins, as if you were up in a mountain village. With all their lights they give the whole market a very Christmassy atmosphere."
Incidentally, the word "Christmas" makes the deutschland.de editorial team think of all kinds of other things, too. Just as there are different traditions in each country where Christmas is celebrated, each family also has its own ideas about what is "Christmassy".
You would like to receive regular information about Germany? Subscribe here: