Christmas classic: the stollen
Christmas is the time for baking, and the stollen is a classic.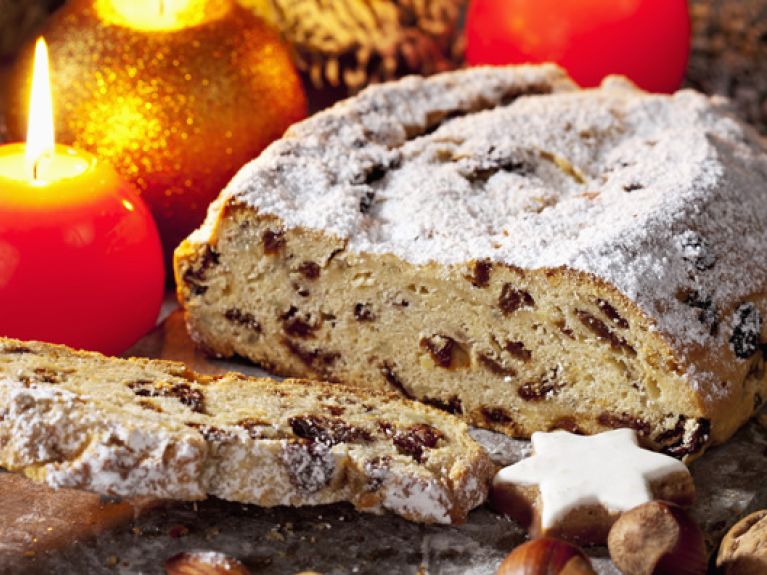 Oblong in shape and sprinkled with icing sugar, the shape of the traditional German Christmas stollen symbolizes the Child Jesus wrapped in swaddling clothes. In Germany, the stollen is as much a part of Christmastide as Christmas markets and Christmas trees. History does not tell us where the stollen recipe originated or who invented it. However, it was first mentioned in a document in Naumburg an der Saale, Saxony, as early as 1329 – making it the Christmas pastry with the longest tradition in Germany.
Because the pre-Christmas period is a time of fasting, the only ingredients allowed for the dough were initially water, oats and turnip-seed oil (canola oil). Butter was forbidden, and spices were either still unknown or much too expensive for normal citizens. But it is said that in 1647 the Saxon Elector asked the Pope for permission to add a little butter to the stollen – turnip-seed oil did taste rather bland, after all.
Protected name
The stollen's triumphant success story had begun. The recipe was repeatedly refined in Saxony, and it started on its road to fame at Dresden's Striezelmarkt. It is now an international brand. In 2010, the names 'Dresdner Stollen', 'Dresdner Christstollen' and 'Dresdner Weihnachtsstollen' were granted geographical status under European law. In other words, a Dresdner Stollen may only be produced in the Dresden region. A stollen's heavy yeast dough consists mainly of butter, milk, flour, eggs, cardamom, cinnamon, raisins, candied lemon peel and almonds.