Food in Germany
You can find out about ingredients, food additives, recipes or tips on how to store different types of food.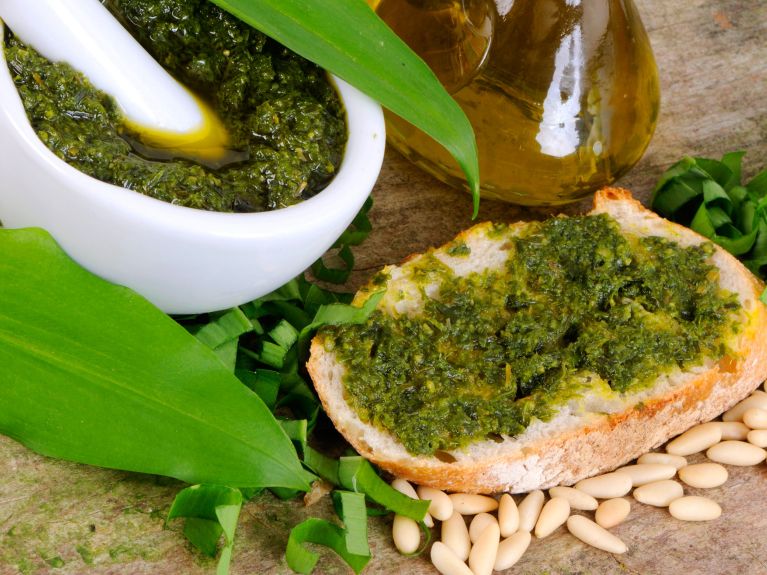 Eco-Seal
Natural foods are labeled as such. The state eco-seal (Bio-Siegel) for ecological agricultural products denotes high-quality foods which live up to the requirements of the EU Ecological Regulations. Under threat of criminal penalties, producers and processors must follow regulations determining safety and which additives they can use. At least 95 percent of agricultural products used come from ecological farms.

www.bio-siegel.de
BioFach
Quality instead of quantity: more and more consumers are now opting to buy organically grown foods. At the world's leading tradeshow for bio products, retailers will be able to find samples of what they want to sell and make contacts with important business partners. "BioFach" in Nuremberg presents all kinds of innovations in the food and agricultural industries. The accompanying congress focuses on trends in the organic industry.
Federal Office of Consumer Protection and Food Safety
The Federal Office of Consumer Protection and Food Safety (BVL) has been working to promote healthy meals in German households since 2002. This office coordinates food monitoring and approves plant protection products and veterinary drugs. The BVL also works as the German liaison office for early-warning systems in the European Union.

www.bvl.bund.de
Federal Office for Agriculture and Food
The Federal Office for Agriculture and Food (BLE – Bundesanstalt für Landwirtschaft und Ernährung) has a wide range of tasks in the agricultural, food and consumer protection sector. As a market regulatory authority, it supports the enforcement of European agricultural policy and is responsible for the admission and inspection of border-crossing goods. It also monitors fishing and the use of renewable raw materials.

www.ble.de
German Nutrition Society
Is Kombucha a health elixir? Do Germans suffer from a lack of iodine? The German Nutrition Society (DGE - Deutsche Gesellschaft für Ernährung e.V.) compiles new information on foods and diet and publishes it in the form of practical recommendations.

www.dge.de
German Agricultural Society
You know what you like. But where the quality of food products is concerned, you can rely on such organizations as the politically and financially independent German Agricultural Society (DLG – Deutsche Landwirtschafts-Gesellschaft e.V.).

www.dlg.org
Max-Rubner Institute
What's for dinner today? The Max-Rubner Institute (MRI) focuses on consumer protection for everything that has to do with healthy food. The Federal Research Institute of Nutrition and Food tests fish, meat and vegetables for harmful substances. Areas of research also include careful and nutrient-preserving food processing and quality assurance for plant and animal products.

www.mri.bund.de
Oekolandbau.de – the organic farming information portal
Is there such a thing as "organic" gummy bears? And what about ecological pest management? Oekolandbau.de is an information portal that consumers, farmers and scientists can go to to read up on the latest news on organic farming and ecological products. It is operated by the Federal Agency for Agriculture and Food.

www.oekolandbau.de
What we eat - Everything you ever wanted to know about food
Did you know that a potato is 80 percent water? The was-wir-essen.de portal provides consumers with information on what they eat every day. With the support of the Federal Ministry for Consumer Protection, Food and Agriculture, this website explains the healthy or harmful properties of our food and how it is made.

www.waswiressen.de