Getting around in Germany
From visa to voltage: Useful information and important telephone numbers for travellers in Germany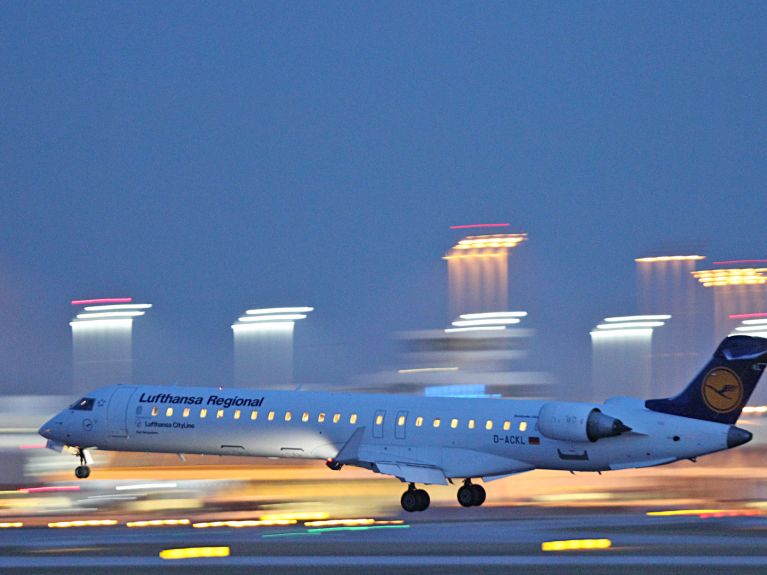 Passports and visa
Foreigners need a valid passport or passport replacement documents to enter Germany. A valid identity card is sufficient for nationals of most West-European states. As a rule children require their own travel documents. Citizens of certain countries require a visa to enter Germany. German diplomatic missions (embassies and consulates) provide more information. 
By air
Germany is served by more than 100 international airlines. The global route network links 22 international airports in Germany with all regions of the world. The largest airports are in Frankfurt am Main, Munich and Düsseldorf. All airports have good links to the respective transport network. 
→ dus.com
By rail
Germany has an extensive rail network of a good 33,000 kilometres of track. Long-distance and local transport systems are well coordinated and offer good connections. Every day there are more than 250 direct connections from Germany to around 120 European cities.
Deutsche Bahn AG hotline: Tel.: +49 18 06 99 66 33
→ bahn.com
By bus
Long-distance coaches are likewise a good way to travel around Germany. There are now more than 250 long-distance bus lines. Inter-city options are particularly numerous, with coaches serving every major German city. There are even stops for long-distance coaches in some towns with less than 10,000 inhabitants. Eight large providers compete for customers in Germany. For information on connections
By car
Germany has an ultra-modern road network. Over 700 service stations, petrol stations, motels and snack stands are open around the clock on the approx. 13,000 kilometre-long motorway network. The following unleaded fuel types are available at petrol stations: Super (95 octane), Super E10 (95 octane), Super Plus (98 octane), and diesel. There is no speed limit on German motorways (Autobahn), unless speed limit signs dictate otherwise, but a general recommended speed of 130km/h is in place. In built-up areas the speed limit is 50km/h, and outside such areas 100km/h. There are no motorway tolls. It is compulsory to wear seat belts and children under 150 cm in height must use child seats. Emergency or breakdown services can be requested using SOS telephones found along the motorways. The major automobile clubs (ADAC, AvD) provide information for car tourists.
ADAC breakdown service Tel.: +49 18 02 22 22 22,
→ adac.de
AvD emergency phone Tel.: +49 80 09 90 99 09,
→ avd.de
Accommodation
All categories of accommodation are available, from private rooms to holiday homes to luxury hotels. Standards are set and are monitored also in the lower price classes. Tourism associations and tourist offices provide special accommodation directories.
Youth hostels
More than 500 youth hostels in Germany are open to members of every youth hostel association belonging to Hostelling International. An international membership card is available for a fee. 
German Youth Hostel Association Tel.: +49 52 31 74 010 
→ djh.de
Money and currency
Legal tender is the Euro (1 Euro = 100 cents). Cash is available around the clock from cash machines using an EC card or international credit card; all major credit cards are accepted. Stated prices are inclusive of charges.
Emergency phone numbers
Tel.: 110 for emergency services: police
Tel.: 112 for emergency services: fire and ambulance services
Time zone
The time zone in Germany is Central European Time (CET). The clocks go forward by one hour between late March and late October (summer time).
Electricity
The voltage is 230 volts.