7 facts about the German forest
If you know these amazing facts, you will be able to have a say in any discussion about the German forest.
The German forest is a habitat for numerous animal and plant species, an economic and recreational zone for people and, last but not least, an important climate factor.
1. The forest in Germany is largely man-made. It is used sustainably, but also has many monocultures. This is mainly owing to the fact that after the world wars, it was often reforested with fast-growing conifers such as spruce for use in the construction and timber industries. A rethinking towards mixed forests took place only after the forest dieback debate in the 1980s.
2. Today 77 tree species grow in German forests. Spruce, pine, beech and oak take up almost three quarters of the forest area. With a total area of almost 5 per cent, imported tree species still play a subordinate role. Of these, Douglas firs are the most widespread (2 per cent).
3. Ten years ago, on 25 June 2011, UNESCO added five beech forest areas in Germany to the list of World Heritage Sites. They are located in Mecklenburg-Western Pomerania, Brandenburg, Thuringia and Hesse. Beech forests were Europe's pristine wilderness; 6,500 years ago they covered 40 per cent of the European continent.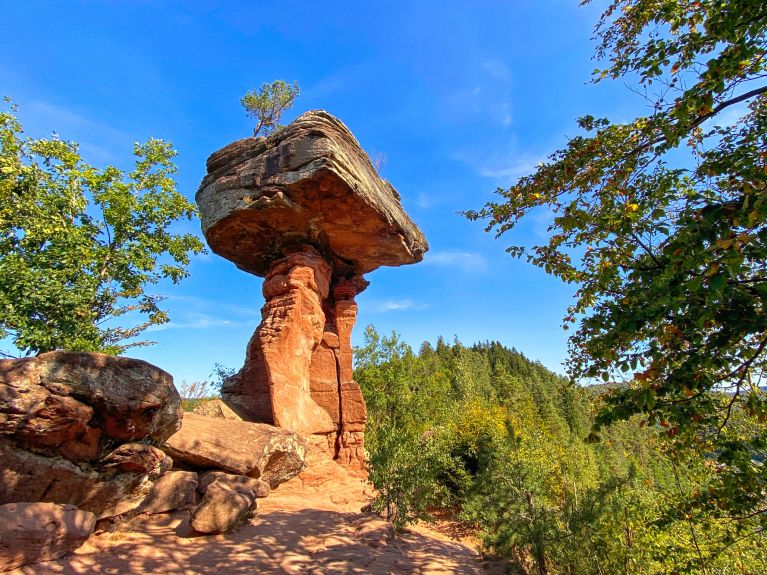 4. Over 90 billion trees grow in Germany. Thus there are around 1,000 trees for every resident. With its over 179,000 hectares, the Palatinate Forest is Germany's largest contiguous forest area.
5. Every year 76 million cubic metres of wood are harvested, and 122 million cubic metres grow back. 1.1 million jobs are bound up with the forest and wood sector. The forest thus employs more people than does the automotive industry.
6. Every year German forests produce 25 to 38 million tons of oxygen. That is about one to one and a half times the amount that Germany's residents need to breathe each year.
7. Around 2.5 billion tons of carbon are bound in wood and soil. German forests relieve the atmosphere of 127 million tons of CO2 every year. This figure corresponds to 14 per cent of all German greenhouse gas emissions.
You would like to receive regular information about Germany? Subscribe here: