Germany's top cities
Which German city is most popular with tourists? Which is the greenest, the most sustainable, the most liveable? Read about it here.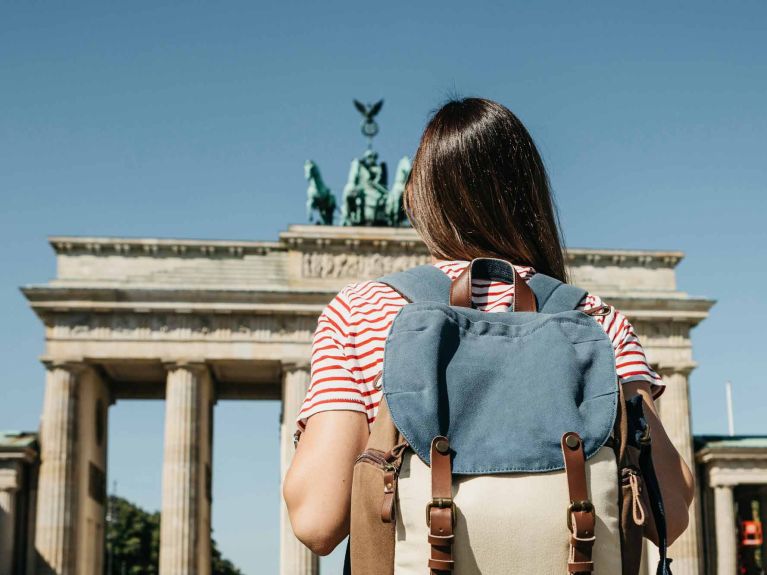 Germany has many things to offer to tourists: Major cities, such as Berlin and Munich attract people from around the world. The great variety of landscapes is impressive ranging from the North Sea and Baltic Sea in the north, to the low mountain ranges in the centre, and the Alps in the south.
For many years Berlin has been the favourite destination, followed by Munich, Hamburg, Frankfurt am Main and Cologne. The Federal Statistical Office monitors the number of tourist overnight stays in Germany each year. In 2020 visits to Germany were very restricted because of the pandemic. Normally the majority of guests come from Europe, especially the Netherlands and Switzerland, followed by travellers from Asia and North America.
The most liveable cities
Germany's most liveable cities include Munich, Düsseldorf and Frankfurt am Main. These three cities came in at number 3, 6 and 7 in the Mercer Quality of Living Survey 2019 – out of more than 230 cities worldwide.
In the rankings of the international lifestyle magazine Monocle, Munich held first place as the world's most liveable city in both 2010 and 2018. The jury was convinced by the awareness of tradition, proximity to the Alps, abundant greenery in public spaces, top-class universities and museums, and a good infrastructure. In the latest 2019 rankings Munich reached 3rd place, Hamburg 7th, Berlin 9th and Düsseldorf 20th. And with four of its cities listed, Germany had the largest number of cities mentioned in the rankings.
The most sustainable cities
In the rankings of the most sustainable cities Munich (7) and Frankfurt am Main (10) made it into the top ten. Hamburg and Berlin came in at 17 and 18. This index evaluates 100 cities around the world according to three criteria: social and societal factors such as mobility and quality of life, environmental factors such as energy consumption, pollution and emissions, and economic performance. These three pillars are closely interlinked with the United Nations Sustainable Development Goals (SDGs).
Germany's greenest city
In the index for urban greenery, the Husqvarna Urban Green Space Index, Dortmund in North-Rhine Westphalia is ranked the fourth greenest city on the planet. The data was collected via satellite imaging and with the help of artificial intelligence. The index classifies 58 per cent of Dortmund's urban spaces as "green spaces" consisting of around one third trees and vegetation over one metre high, 23 per cent lawns and grassy areas. This makes Dortmund Germany's greenest city, and shows that the commitment to sustainability strategies and communal climate action partnerships has been well worthwhile.
You would like to receive regular information about Germany? Subscribe here: