These are your favourite dishes
Swabian raviolis in outer space, spaetzle under EU protection: Let us explain what you don't yet know about your favourite German dishes.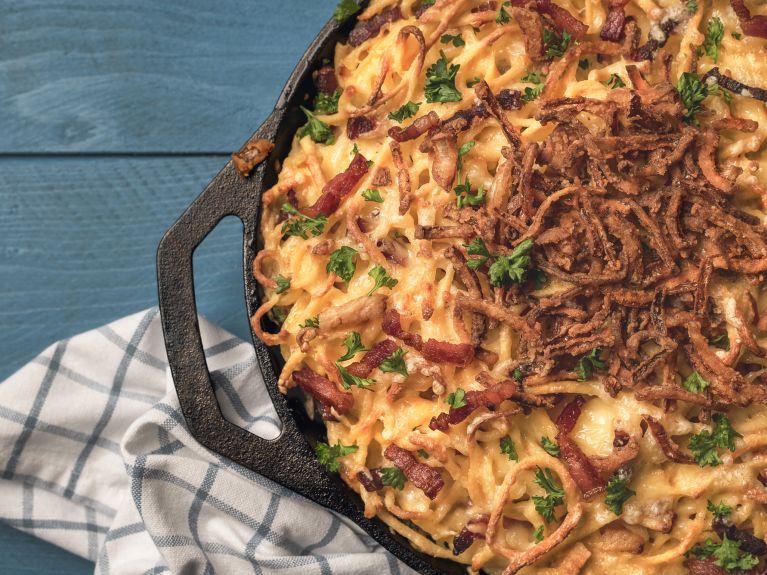 We asked our international community: "What is your favourite food in Germany?" Here are the most popular answers, including explanations and backgrounds.

Rouladen: Granny's classic
Sunday, 12.30 pm, somewhere in Germany. Granny has cooked a classic German dish: Rinderrouladen or beef roulades. Thinly cut beef, filled and wrapped into a roll, slowly braised in a rich dark sauce. Every German grandmother has her own recipe. Even so, the essential ingredients always include: Mustard and onions. But is traditional German cuisine always hearty? And does it always have to include meat? No. In earlier times, elaborate meat dishes, such as sauerbraten, roulades, Eisbein (stewed knuckle of pork) and Haxe (roasted knuckle of pork), were served once a week at the most, on Sunday. For the rest of the week the dishes were normally simpler and even meatless, since the majority of people couldn't afford anything else.
Fun fact: Nowadays, around 8 million people in Germany eat no meat at all.

Maultaschen: Swabian raviolis
We need to briefly forget everything we have just discovered about non-meat eaters in Germany, while we look into the origins of Maultauschen (Swabian raviolis). The most popular theory dates back to the 17th century. According to legend, a monk at Maulbronn Monastery in Swabia was given a large piece of meat during the fasting period before Easter. In order to eat it in secret, he chopped the meat into tiny pieces, mixed it with vegetables and hid it inside some pasta dough. Nowadays, people enjoy eating Maultaschen throughout Germany and in many other countries around the world.
Fun fact: Maultaschen have even been eaten in outer space. They were served when the German astronaut Alexander Gerst was on the ISS space station in 2018.


(Käse) Spätzle: Please don't call it Mac & Cheese!
Making spaetzli is easy: You just need flour, eggs, water and salt, that's all. Compared with Italian pasta dough, spaetzle dough is softer and moister. That's why you can't roll it out. Instead, spaetzle are squeezed through a press, shaved off the edge of a board or sliced straight into the boiling water. Afterwards, the simmered spaetzle are drained and then fried in butter. After that you can either bake them with grated cheese (Käsespätzle), or serve them as a side dish.
They say that in earlier times, spaetzle were formed into tiny pieces of dough, either purely by hand, or with the help of a spoon. The result slightly resembled a sparrow (Spatz), which is why they were also called "Spatzen". Another theory maintains that the word "Spätzle" comes from the Italian word "spezzato", which means "little pieces".
Fun fact: Since 2012 spaetzle officially belong to the Swabians. The European Commission made Schwäbische Spätzle and Knöpfle into protected types of pasta. If they have been produced in Swabia, they are permitted to bear the quality seal of "protected geographical indication" which is valid throughout the EU.