Supporting the woodlands as volunteers
Eco volunteering during the holidays? The voluntourism project in the Southern Black Forest Nature Park gives a good impression.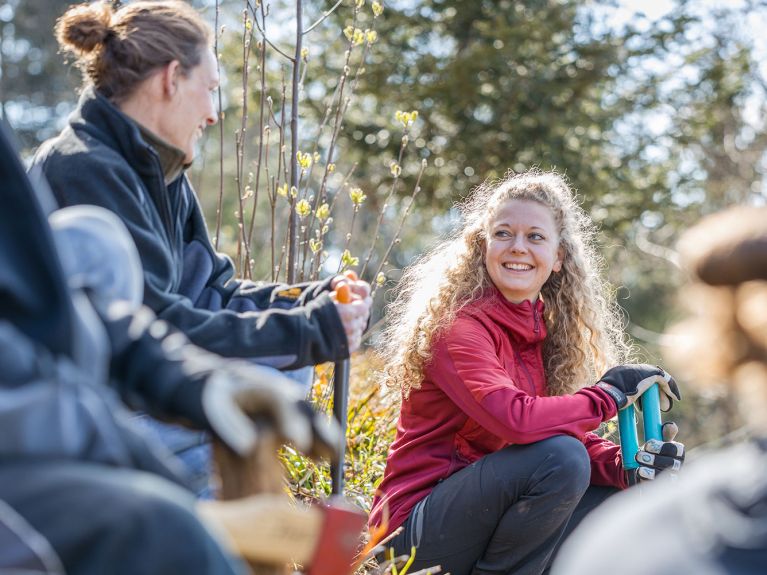 Ms Peter, you are responsible for the sustainable tourism sector in the Southern Black Forest Nature Park. The project enables volunteers to do something for the natural environment during their holidays. What exactly does this mean?
The loss of biological diversity is a global problem. Everything is interlinked, like a huge house of cards. For instance, if domestic plants are crowded out by invasive species, various insects will disappear. In turn, other animals will lose their food sources. Our project sensitizes the participants to the value of nature and the importance of an intact ecosystem, the basis of our livelihood. But apart from this, the volunteers simply enjoy a good time together. They work alongside local experts and project partners, learn a lot of new things and in the evenings they can appreciate what they have achieved. That's very satisfying, and it's a great form of support for the region.
Who can join in on the project?
Everybody who enjoys nature and activity. For instance, our volunteers might be working with saws, pruning shears and axes to create flight paths for the wood grouse, which is threatened with extinction, or they might be removing harmful introduced plant species. Our activity holiday is a complete package of volunteer work and an accompanying tourist programme. The participants live for a week at a 300-year-old, sustainably run Black Forest farm and gain authentic insights into the culture and lifestyles of our region.
What do the volunteers need to bring with them?
We provide the necessary materials and food. The participants need to be sure-footed and basically fit. We're happy to welcome everyone who fancies the idea of eco volunteering with us. At the moment we're thinking about how we can work in different languages as well, or how we can integrate people with disabilities.
The voluntourism concept is a combination of volunteering and tourism. The Southern Black Forest Nature Park one of four model regions in Germany: Projects combining holidays and social commitment are also underway in the Middle Elbe Biosphere Reserve, in Müritz National Park and in the Schleswig-Holstein Wadden Sea National Park. The project is being supported by the Federal Agency for Nature Conservation with funding from the Federal Ministry for the Environment, Nature Conservation, Nuclear Safety and Consumer Protection.