Discover DE: German half-timbered towns
With the series "Discover DE" we take a journey right across Germany: this time to the most attractive half-timbered towns.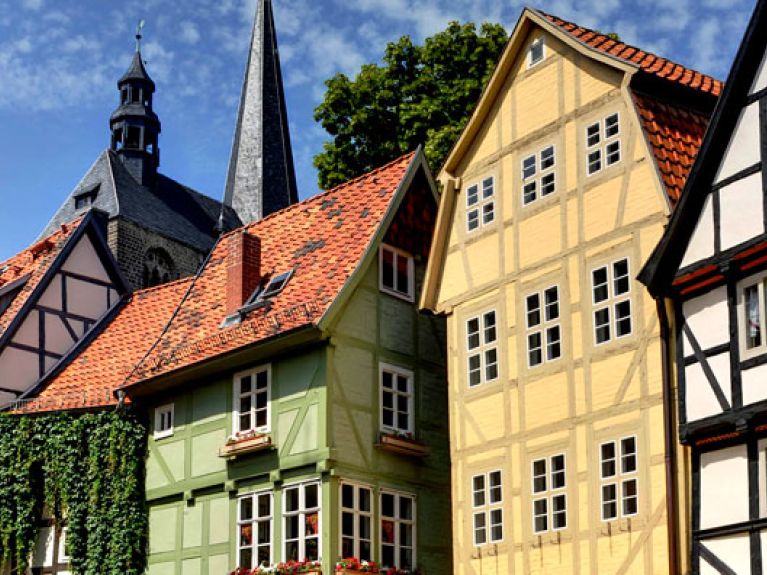 Quedlinburg 
With its historic centre measuring over 80 hectares, Quedlinburg in Saxony-Anhalt is one of Germany's largest protected heritage zones. The UNESCO World Heritage Site, with its self-contained medieval layout and a unique collection of half-timbered houses, documents more than six centuries of half-timbered construction. In winding alleys some 2,000 small houses nestle against each other, with the St. Servatius collegiate church and the castle on Castle Hill towering over them.
Rothenburg ob der Tauber 
With its largely preserved medieval old town, Rothenburg ob der Tauber in Bavaria is a world-renowned symbol of German Romanticism. The carefully reconstructed Old Forge for instance looks like something from the Brothers Grimm fairy tales. The silhouette of the town is dominated by 42 gate and defence towers from 1,000 years of town history. The Rothenburg market square boasts the combination of the Gothic Town Hall, Renaissance and Baroque buildings. 
Büdingen 
With its medieval old town and castle, Büdingen is well-known beyond the borders of Hessen. It is among the best-preserved historic towns in Europe. Visitors to the historic centre will find half-timbered houses, some of which are several centuries old. Parts of the town walls, fortified towers and city gates are open to the public. The town's landmark is the defiant "lower gate" or "Jerusalem Gate", built in 1503 as a replica of Herod's Gate in Jerusalem.
Celle 
As the gateway to the flatlands of the Lüneburg Heath, Celle in Lower Saxony boasts a picturesque old town with over 500 lovingly restored half-timbered houses. The ducal castle, town church and Old Town Hall are the oldest structures in the ducal seat. A real eye-catcher is Hoppener Haus, a corner building dating back to 1532. The richly decorated façade shows devils and fools, planetary gods, mythical creatures, grotesque faces and reptiles all making mischief. 
Esslingen 
The former free imperial city of Esslingen in Baden-Württemberg, nestled between vineyards and the banks of the Neckar, has a history dating back a good 1,000 years. A fully preserved medieval city centre with impressive churches, abbeys, gates, towers and the oldest row of half-timbered houses in Germany attests to Esslingen's heyday in the Middle Ages. One particular event highlight is the four-week-long Christmas market, which even includes medieval market stalls. 
www.deutsche-fachwerkstrasse.de
© www.deutschland.de